Lancaster University Volunteering Unit awards
03/16/2005 13:48:28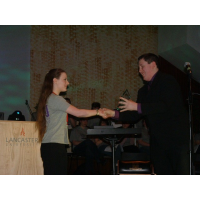 Lancaster University Volunteering Unit has received special awards for work with the community.
The unit's Distraction Burglary Project, that has reduced the instances of bogus calling in Lancaster, was recognised by both the Lancashire High Sheriff, Gail Stanley, who presented the Shrievalty Rose Bowl Award and by Gary Stephenson, Divisional Commander, who presented a Lancashire Police Divisional Commendation at a celebration event this week attended by the unit's volunteers, partner organisations and pupils from the Schools Partnership.
The Distraction Burglary project is a partnership between Lancashire Constabulary and Lancaster University Volunteering Unit (LUVU). LUVU students volunteer to offer practical crime prevention advice to reduce the likelihood of distraction burglary occurring in the homes of local people. Security devices such as door bars and spy-holes are fitted and advice is given to reduce the chance of the burglar being allowed through the door.
Marked for particular achievement was 'CommIT' the Community ICT project that received 'Project Team of the Year' and the School Creative Arts programme which received Project of the Year.
CommIT has been established to help community organisations get the most out of their current IT systems and aid in the development of new ones. Volunteers assist in many areas of IT, from the creation of newsletters, mail merge and email to the construction of databases and websites.
The School Creative Arts programme, which received Project of the Year, involved school children and teachers from Skerton, Willow Lane, West End and Dallas Road Community Primary Schools creating art and music around the theme of a perfect future. The project, run by LUVU volunteers, encouraged children to imagine what would exist in a perfect 'green word' and to discuss bullying, pollution and war in a 'Grey World'.
Lyndsey Sterritt was awarded LUVU Volunteer of the Year. Lyndsey took a leading role in a project designed to help a local homeless charity improve the way it managed the food and clothing donations it received and created workshops aimed at improving ICT within community organisations. Awards were presented by Professor Paul Wellings, Vice-Chancellor Lancaster University and Matt Freeman, Students' Union President.
The evening celebrations included performances of songs "Perfect Day" and "All you Need is Love", by pupils from Skerton Community, Dallas Road, West End and Willow Lane primary schools and presentations on the benefits of selling and promoting Fair Trade goods from Central, Heysham and Ripley High Schools.
Ben Matthews Director of LUVU said: "Only two and a half years after the Unit's launch we have over 200 volunteers from all sections of our University community actively engaged in projects. CommIT, our community ICT project, demonstrates our potential to play a role in regional development. I hope that CommIT and similar projects will result in more successes to celebrate this time next year."
Please follow links for further pictures of the event http://domino.lancs.ac.uk/INFO/LUNews.nsf/I/CDF68C87356DF74280256FC6004E8BB9
http://domino.lancs.ac.uk/INFO/LUNews.nsf/I/1072BF47A0AD8A9080256FC6004ED5A6