Lancaster engineering graduates favoured
01/31/2007 12:26:09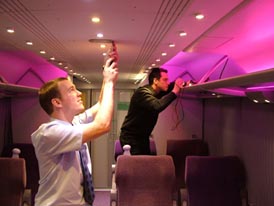 Thomas Cox and Robert Woodhouse at work
A leading electronics firm says it prefers to recruit Lancaster graduates because of their high calibre.
Marl International is a pioneering company in the design and manufacture of high performance LED electronic lighting, with over 100 employees based in Cumbria and Nevada in the US.
The firm has an active policy of recruiting from Lancaster University, with three students employed in the past two years.
Nathan Orton, Marl's Head of Design and Quality, said: "The company has an active policy to look to Lancaster University for recruitment in all of our departments.
"We favour Lancaster University because it's good for us – it's local, it's in our interests to work with the students we've got on placement and their performance has been excellent.
"They're conscientious, they've got the knowledge and it doesn't take a lot for them to integrate as a team."
The three recent graduates who have joined Marl include mature student Robert Woodhouse, who gained a first class MEng degree in Electronic Engineering.
He said: "I now use all the skills I gained at Lancaster University to design new high intensity LED modules along with the power electronics which control them. It is a cutting-edge, innovative and enthusiastic company – just what the Lancaster Engineering Department instils in its students!"
Thomas Cox joined Marl at a recruitment presentation on campus during which he showed them the work he was doing for his MEng in Mechatronic Engineering.
He said that studying at Lancaster gave him the broad engineering base necessary for the detailed cross disciplinary work he now carries out.
"As a design engineer I am at the cutting edge of research and development and this allows me to concentrate on both mechanical CAD design as well as electronic circuit design. Marl's location allows me to stay close to my family whilst being close to the beautiful Lake District."
The third recruit was David Wells who gained a BEng in Mechatronic Engineering.
Mr Orton said: "Robert is an exceptional guy who's great to work with and Thomas Cox has fitted in great as did David although he's now become an RAF pilot which was his dream all along."
The Ulverston company – whose MD Adrian Rawlinson gained his MBA from Lancaster – is now sponsoring two engineering students on a summer placement with the possibility of employment when they graduate.
Adrian Rawlinson said: "The synergy between Lancaster University and Marl is based on close proximity and a match between what Marl needs as an organisation and providing exciting opportunities for young bright people with ambition who are interested in 21st century engineering and technology.
Marl is very happy with the quality of graduates from Lancaster and subjectively on a scale of 1 - 10 would give them an 8."
Dr Malcolm Joyce of the University's Engineering Department said: "It's great to see Lancaster's top Engineering graduates going into rewarding careers and playing an important part in the regional engineering-based economy in Cumbria. Partnerships with leading electronics companies like Marl enable us to offer students outstanding opportunities in engineering."