FutureEverything Awarded Lever Prize 2010
01/21/2010 11:55:50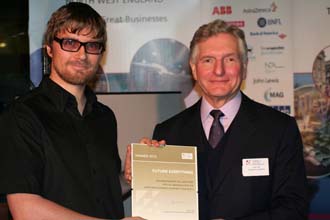 Drew Hemment with Chair of the NWBLT Paul Lee
After 15 years at the cutting edge of art, music and ideas, Lancaster University's partner organisation FutureEverything has been awarded a prestigious Lever Prize 2010.
FutureEverything leads pioneering projects and international debates on themes including innovation, technology art, society and the environment.
Dr. Drew Hemment, Associate Director of the ImaginationLancaster research centre in the Lancaster Institute for the Contemporary Arts (LICA) is the founder and director of FutureEverything. He said: "The FutureEverything Festival of Art, Music & Ideas brings together artists, technologists and future-thinkers to share, innovate and bring the future into the present. The 2010 Lever Prize is a fantastic accolade that will help us to deliver the festival to its highest standard."
Geoffrey Piper, Lever Prize CEO, said he was delighted to announce FutureEverything as the overall winner. The prize includes a trophy, £10,000 cash and the opportunity of a year long collaboration with leading businesses.
He said: "FutureEverything is an outstanding winner of this annual award, and a very worthy successor to previous winners Liverpool Biennial, Manchester International Festival, Tate, and The National Football Museum."
The Lever Prize is awarded by top business leaders following a rigorous selection process, which includes a Dragon's Den-style interview with CEOs of international companies based in the North West.
The Lever Prize is presented jointly by North West Business Leadership Team and Arts & Business North West.
The FutureEverything festival in Manchester was attended by 75,000 people and brings together visionary thinkers from around the world, while 500 people attend its annual conference to explore the latest developments in digital culture.
FutureEverything collaborates closely with the ImaginationLancaster research centre at Lancaster University, as well as with researchers in InfoLab21 and Lancaster Environment Centre, and is also collaborating with the BBC to set up technology events in the North of England.
The next FutureEverything festival will take place on May 12-15th this year.