SIFE Lancaster students win European award
10/19/2006 11:25:23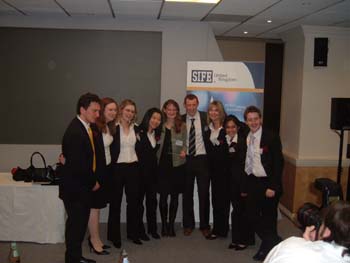 Students at the SIFE awards
Six Lancaster students have been awarded runners up in the prestigious SIFE European Symposium held in Paris this year. SIFE Lancaster presented their pioneering business start up ideas in front of a panel of judges from leading global corporations, such as the head of European investment banking firm HSBC, partners from KPMG and heads of marketing from L'Oreal and Schwarzkopf.

Students In Free Enterprise (SIFE) is a non-profit organisation which runs within 1,800 universities in 46 countries worldwide. Through SIFE, students are encouraged to develop projects which create economic opportunity, through helping others to enhance skills and knowledge of entrepreneurship, market economics, personal skills,literacy and business ethics.
Competing against leading European SIFE teams from countries such as Albania, Spain and Sweden was a tremendous challenge.
SIFE Lancaster Policy Advisor, Mark Davison, said:"Being able to meet people from all corners of Europe was a fantastic experience. To see how Free Enterprise is changing local communities is phenomenal".
SIFE Lancaster presented their business ideas such as the Lancaster Energy Shop (a retail outlet set to open in January 2007 which will market energy saving and renewable energy products) and the Fun Finance Film (a tool backed by HSBC which teaches young adults financial literacy skills). SIFE Lancaster received interest from investors from Russia, Holland and Germany regarding the export of the Fun Finance Film.
Through being involved in SIFE, SIFE Lancaster students have received direct interest from graduate recruiters of L'Oreal, British Gas and PZ Cussons. SIFE Lancaster is currently looking to recruit new innovative members for the upcoming academic year. More information can be found through www.sifelancaster.org