A Record Number of Students Get Their Passports to University
08/08/2008 10:32:34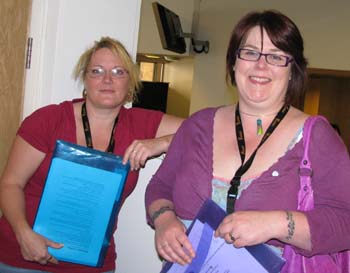 Tasha Mount (left) and Andrea McKinnon
A record number of students who are aiming for University have attended a course at Lancaster University to boost their confidence.
Seventy-nine students attended the PASSPORT to Higher Education programme which aims to ease the transition from school or college to University. This can be hard especially for older students returning to education after a break or students who are the first in their family to go to University. The three-and-a-half week programme helps to build their confidence and skills before the start of term.
Organiser Rory Daly from the Department of Continuing Education said: "Some students don't receive the support they need at home, or have had an illness or disability that might affect their grades, and they can use the PASSPORT end of programme Certificate as extra evidence to show they are ready to enter higher education. Every year many students only get onto their chosen course because they attended PASSPORT. We have helped hundreds of students get into Universities across the UK and come out with a good degree."
Andrea McKinnon from Cumbria hopes to come to Lancaster University to study History, after completing an Access course at Lancaster and Morecambe College in English and History.
She said: "I have really enjoyed meeting all the students on the Programme and I realise now that I can fit in, even though a lot of the students are quite a lot younger than me. I would certainly recommend the Programme to other people thinking of going to university. There's a lot of studying to do while you're on the Programme but I think it's been a really good preparation for the real thing and everyone on it has been fantastic."
Tasha Mount from Westgate in Morecambe came onto the PASSPORT Programme as she has applied to the University of Cumbria to study nursing and midwifery. During the three and a half week programme, Tasha has been studying Psychology and Philosophy.
She said: "I've gained a lot of confidence on PASSPORT and learnt lots of new skills, such as how to use Powerpoint for presentations. I hope I will get into uni but whatever happens I can say that I did PASSPORT and I completed it".
PASSPORT is provided free of charge for students who meet certain entry criteria as Lancaster University and Lancashire County Council provide scholarships that cover tuition costs, accommodation, travel and other expenses. This is a real bonus for students who have work and financial commitments as it helps to ensure that they can afford to take part.
The PASSPORT to Higher Education summer school is organised by the Department of Continuing Education at Lancaster University. For further information about the programme and about entry criteria have a look at the PASSPORT website www.lancs.ac.uk/depts/conted/passport/ or call 01524 592622.