Genomics Research Centre Awarded £8m
11/02/2006 12:53:23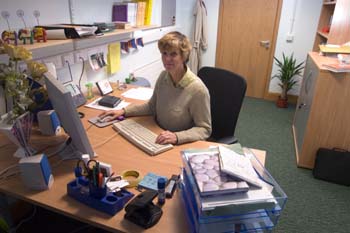 Dr Mairi Levitt, Deputy Director of CESAGen at Lancaster University
Researchers at Lancaster University's Centre for Economic and Social Aspects of Genomics (CESAGen) are celebrating after winning further funding of around £8m over five years.

CESAGen is a leading centre in the UK for the social scientific study of genetics. Set up in 2002, it is a collaborative research centre which is funded as part of the Economic and Social Research Council's Genomics Network. Based at the universities of Lancaster and Cardiff, it brings together natural and social scientists to research the economic, social and ethical consequences of genomic and genetic science.

The Deputy Director of CESAGen at Lancaster, Dr Mairi Levitt, said: "We are delighted here at Lancaster to have been awarded a further five years funding. This award is an astounding endorsement of the impact of our research in this field.

"In its first five years CESAGen has established itself as a world-leading centre for research on the social context and consequences of genomics and post-genomics science. It has been an exemplar of multidisciplinary research collaboration reflecting the Lancaster tradition."


The next phase of research will cover three major themes: biomedicine, identity and behaviour, therapies and enhancement, and bio-knowledge, economies and sustainable innovations.

Some of the current flagship projects at Lancaster include:-
· plant genomics, commercialisation and environmental knowledge
· genetic databases
· re-configurations of human-animal relations in genomics and beyond
· indigenous peoples and the globalisation of genomics in Amazonia
· media, culture and genomics, jointly with Cardiff

Key challenges in the next few years will include addressing the social dimensions of the applications of genomics in health service delivery, with reference to both common and rare diseases, and in areas such as food and nutrition, behaviour and criminal responsibility, and human enhancement.

Adrian Alsop, Director for Research, Training and Development for the ESRC, said he was delighted to announce this second phase of funding for research centres.

He said: "This unique ESRC Genomics Network allows us to work in collaboration with medical and natural scientists in order to build understanding in this area. The Network has quickly established a world leading presence for the UK in this important area. Insights from social science explain how genomic technologies can benefit our health service and realise the potential benefits that they bring to developing countries."
http://www.cesagen.lancs.ac.uk/index.htm