Outstanding Success at Engineering Awards
10/17/2008 14:50:39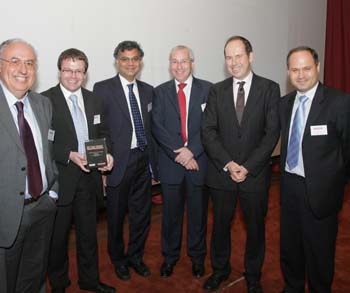 From left: Prof Xydeas, Darren Ansell (BAE Systems), Dr Venkat Sastry (Cranfield), David Wright (BERR), Rory Cellan-Jones (BBC), Dr Angelov
Lancaster University together with BAE Systems Military Air Solutions and Cranfield University have won two awards at The Engineer Technology and Innovation Awards 2008.
The BBC's Technology Correspondent Rory Cellan Jones presented the awards at a prestigious ceremony at The Royal Society in London.
The University and its partners won The Aerospace and Defence Sector Collaboration Award in a strong field where one of the other finalists was Cambridge University.
They also won The Engineer Special Award - an overall award not limited to any sector - for their cutting edge research into Sense and Avoid for unmanned air vehicles (UAVs).
The team at Lancaster University includes Principal Investigator Dr Plamen Angelov, Prof Costas Xydeas, Dr Cosmin Bocaniala , Mike Everett and Dr Gavin Leng from the Digital Signal Processing Systems Group at the Department of Communication Systems at InfoLab21.
Prof Xydeas said: "This is a recognition of the successful collaboration we have with industry and shows what can be achieved over a number of years by working together. This area is very important for the economy. UAVs are going to generate a significant income for industry in the next 10 years or so and Lancaster University is at the centre of this."
The UAV market is predicted to grow from the current figure of over $3bn worldwide to almost $55bn within a decade according to industry analysts Teal Group.
Now the team's work into UAVs is to be tested out by BAE Systems in live trials over north-west England.
Researchers at Lancaster have been developing intelligent and autonomous systems in co-operation with BAE systems, which will use a modified Jetstream aircraft to test the sense and avoid capability of UAVs. Another Jetstream aircraft may be used as an intruder.
The work on Sense and Avoid is part of the UK's Autonomous Systems Technology Related Airborne Evaluation and Assessment Programme (ASTRAEA). This is a £32m collaborative programme with the goal of opening up civil airspace to UAVs.
Dr Plamen Angelov is the Principal Investigator on two ASTRAEA projects which focus on Adaptive Routing and Collision Avoidance Systems.
He said: "This trial by BAE Systems reinforces the recognition of our team's advanced research into intelligent and autonomous systems and its usefulness. The North West is well placed to benefit from the predicted huge growth in the UAV market through Lancaster University and companies like BAE Systems at Warton."
Dr. Angelov is also the Director of a new BEng/MEng degree scheme on Intelligent and Robotic Systems, due to start in 2009, and a member of the North West Science Council on Autonomous Systems and of North West Autonomous Systems Programme. He is also the Vice-Chair of the Standards Technical Committee of the Computational Intelligence Society, IEEE – The Worlds largest organization in this area.
Lancaster University has been awarded £225,000 as part of ASTRAEA, which could revolutionise police and fire service surveillance, coastal surveillance, power and pipeline inspections and mobile phone and broadband services, which currently rely on manned aircraft.
The ASTRAEA partners include not just Lancaster but the Universities of Leicester, Bath, Cranfield, Loughborough, Aberystwyth, Sheffield and the West of England, working alongside major companies such as BAE Systems, Thales UK, Rolls-Royce, EADS, Refuelling andQinetiQ. The public sector is represented by the Department of Trade and Industry and a number of regional development bodies.