Director of Independent Studies, John Wakeford, retires
07/04/2002 14:03:26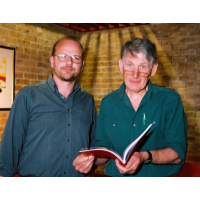 A surprise retirement party was held on Wednesday 3rd July for Director of Independent Studies, John Wakeford, who retires this Summer. Departmental Lecturer George Green, spoke of John's achievements at Lancaster during the last 33 years, which described John as having "absolute and unwavering integrity". John also made a speech, in which he thanked his colleagues and friends for their support during his time at Lancaster University. A book of memories was presented as a token of appreciation from many colleagues.
In 1969 the University of Lancaster appointed John Wakeford as a senior lecturer and the first Head of Department in the newly formed Sociology department. In 1982 he began to work part time in developing Independent Studies and full-time in 1984 when he became its Director. He has also held various other positions including Secretary to the AUT and an active member of the University Council. John is described by many of his older colleagues as belonging to 'an academic age we shall never see again'. It was an ivory towers age but also a time when academics actively campaigned in university politics and John will always be remembered alongside that other legendary and sadly missed figure Gordon Inkster.
On another level he is remembered as someone who cared about his students and was active in promoting their interests by removing unnecessary academic barriers and always encouraging them to do their best. A key figure within the University, John will be greatly missed by all friends, colleagues and students, both past and present.