Cycle Day at Lancaster University
02/29/2008 11:30:19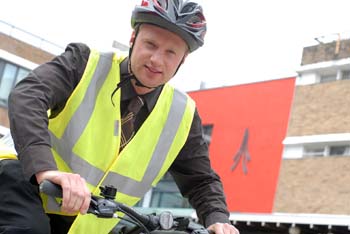 Travel and Environment Co-ordinator Philip Longton
A mass cycle ride to campus is one of the events planned for Lancaster University's Cycle Day on March 11.
The Cycle Day for One World Week also includes a free breakfast for staff who pledge to cycle to work, free bike checks and the chance to win £400 of prizes.
Travel and Environment Co-ordinator Philip Longton said: "This is a celebration of cycling to and from the University as a commute-to-work. We want to make this fun and interesting with these events to create even more enthusiasm and interest."
The numbers of staff cylcing to work at the University is one of the highest in Lancashire at just over 13 per cent, while the numbers of students cycling to campus has doubled to over ten per cent in the past two years.
All the events are being provided as a partnership between Green Lancaster and the Cycling Demonstration Town project for Lancaster & Morecambe.
Free breakfast for staff who pledge to cycle to work on Tuesday 11th March. The free breakfast will be available in the Conference Centre, Meeting Room 1 from 08:30 – 10:00 on 11th March. The breakfast will include bacon & sausage buns, croissants, Danish pastries, tea, coffee and orange juice. To qualify it is essential that you first sign the Cycle Pledge Form stating that you will cycle to work on Tuesday 11th March, have the form verified by your line manager and return the completed form by Friday 7th March to Philip Longton, Estates Management, University House. To request a Cycle Pledge Form please email Philip on p.longton@lancaster.ac.uk
A Mass Cycle Ride to Campus. The first led cycle ride will depart from the car park of Chancellors' Wharf at 08:20 and will follow the new University cycle route along the canal towpath. Meet at 08:10 for this ride. The second led cycle ride will depart from the A6 on the edge of Greaves Park, just south of the Pointer Roundabout, at 08:30. Participants in this ride should meet there at 08:20. Cyclists are reminded that they are individually responsible for themselves as part of these events. It is hoped to invite the local press for a photo opportunity.
Free "Doctor Bike" bicycle checks and adjustments for free by cycle mechanic Colin Stone. Colin will be available by his van from 08:30 – 15:00 on Tuesday 11th March outside the Conference Centre in Bowland Avenue East – no need to book.
Cycling events and promotion in Alexandra Square between 11:00 and 15:00 a selection of cycling information stalls will be available as part of the University's Cycle Day on 11th March. The highlight will be a pedal-powered fruit smoothie maker
Win £400 worth of prizes as part of the staff cycle to work departmental challenge. As part of the University's Cycle Day on March 11th, why not get your department involved by registering it as part of the Cycle to Work Departmental Challenge? Departmental prizes will be awarded for the highest collective cycle mileage, the highest proportion of staff cycling to campus as well as an individual prize for the best idea to promote cycling to campus. For a registration form email Bee Harding from the Cycle Demonstration Town Team at bharding@lancaster.gov.uk Please note that the deadline for registration is Friday 7th March and only one registration form per department is needed for entry.