Green Lesson at South Lakes School
07/04/2007 10:18:13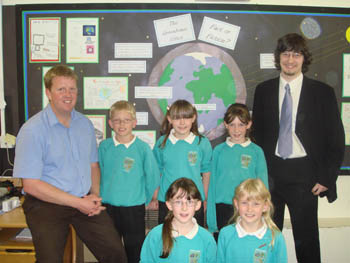 Ghyllside School Class Teacher Matt Towe (left) with Lancaster University student Alex Bartlett (far right) and year four pupils at Ghyllside School
Pupils at a South Lakeland Primary school have turned eco warriors with the help of a Lancaster University student armed with a heat seeking camera.
Third year engineering student Alex Bartlett has been working with children at Ghyllside School, Kendal, on a one year project to help them crack down on energy waste and save school funds.
Using a special thermal imaging camera - on loan from Lancaster University's Environment Centre – pupils have been taking photographs of their school looking for energy hotspots.
Alex said: "We took photographs of the whole school both inside and out using the camera and we looked at the areas which were losing most energy.
"When the children saw the photographs it was really obvious that a lot of heat was coming from all the school computers which are often left on at night.
"We were then able to work out that just by switching off all the computers in the school when they were not in use they could probably save around £1,150 a year."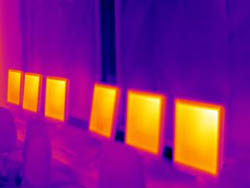 Ghyllside School Head teacher Mark Woodburn said the project had had a huge impact on the children and made a real difference to the school – and switching off the computers at night was just the beginning.
"This has been a memorable experience for the pupils – they have been learning about environmental issues across the curriculum and this project gave them first hand experience of how to cut down on waste. It also brought them into contact with a science student working at university level and scientific equipment which they would otherwise not have the opportunity to use."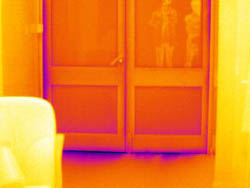 Mr Woodburn said the information gathered by Alex and the pupils would be passed to the governors and used to help inform future decisions in the school ranging from replacing doors which leaked heat to thinking more carefully about which fridges to put in the staffroom.