University Helps Teenage Social Entrepreneurs
05/31/2009 22:37:13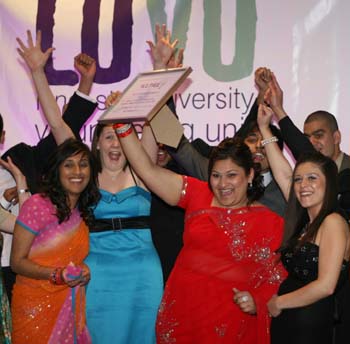 Rishna Chohan from Preston College celebrates her team's award
A hundred and forty teenagers have successfully run their own social enterprise with the help of Lancaster University Volunteering Unit (LUVU).
The pupils from nine colleges and sixth forms in Lancaster, Blackpool and Preston have all taken part in the Voltage project funded by v, the youth volunteering charity. Voltage is run by LUVU who are working in partnership with the National Football Museum in Preston and Morecambe Football Club to attract young people to volunteer on the project.
Young people identified a need in their school or community before creating a social enterprise, where the profits are ploughed back into the community. They then visited Lancaster University to create a marketing campaign to promote their business at school before running their social enterprise for a month, supported by LUVU volunteers.
Social enterprises ranged from a cultural fashion show to a smoothie making business to promote healthy eating. About £3000 was raised which is being re-invested back into the schools, with some of the profit going towards charities chosen by the teams.
The teams also attended an awards evening attended by the Pro-Vice Chancellor Professor Amanda Chetwynd, LUSU President Michael Payne and the Mayor of Preston.
Preston College's team "Fashion House" were the winners of the Outstanding Social Enterprise award in Preston, after holding a cultural fashion show.
Team leader Rishna Chohan said: "My team from the Preston College Business Academy worked extremely hard together to make a success of the event. I feel that I have more skills and confidence now from leading the project."
Voltage Coordinator Sidonie Richardson said: "It has been such a rewarding experience working with the students as they have all had brilliant social enterprise ideas and have shown that they can make a difference in their Schools and Communities."
LUSU President Michael Payne awarded the Exceptional Team award to "Unite" from Kirkham Grammar School.
He said: "All the teams worked extremely hard to create and operate their social enterprises and their presentations show how much passion and commitment they all have."