Lauded Piano Quartet to Play Lancaster International Concert Series
02/29/2008 16:58:27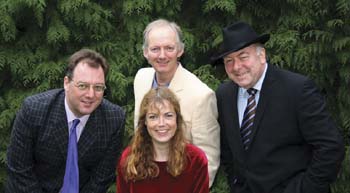 The Primrose Ensemble
Lancaster International Concert Series is delighted to present the Primrose Piano Quartet, playing a wide ranging programme designed to delight any music lover. The Primroses are named after one of the century's greatest Viola players: William Primrose CBE, and have been playing together since 2002. Each member brings a lifetime's experience of performing and recording to the quartet, and included amongst their ranks are two ex-members of the legendary Lindsay String Quartet and Susanne Stanzeleit, acknowledged as being one of the leading violinists of her generation.
The Primrose Quartet are recognised as leaders in the field of British music, and the evening will open with Frank Bridge's Phantasy for Piano Quartet, a classic of English Romantic Impressionism. The programme will also include pieces by Schubert and Richard Strauss and then will end with Brahms' Piano Quartet No 1 in G Minor. Brahms' first quartet starts in a sombre mood, but by the end reaches a wild gypsy infused end guaranteed to bring the house down.
The Primroses offer up an evening of musical entertainment of the highest possible calibre.
The Great Hall, Lancaster University
Thursday 6th March 2008 at 7.30pm
Primrose Piano Quartet
Frank Bridge - Phantasy, for Piano Quartet
Schubert – String Trio Movement in B Flat, D471
R. Strauss – Piano Quartet, C Minor
Brahms – Piano Quartet No 1 in G Minor
(meet the artist 6.45pm)
Tickets: £14.50, £12 (£12, £9.50 concessions) £5.50 Young person
For tickets or further information contact the Box Office on 01524 594151
boxoffice@lancaster.ac.uk
Online Booking & Webcast Concerts: www.lancasterconcerts.co.uk