Lancaster opens new £10m contemporary arts institute
03/24/2011 00:00:00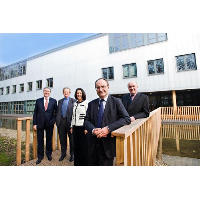 Lancaster University's new £10m contemporary arts institute hosted a five day creative festival to mark its official opening on March 29.
Intelligently-designed and expected to achieve top marks for sustainability and environmental performance, Lancaster Institute for Contemporary Arts (LICA) is a new purpose-built facility for teaching, research and public performance.
LICA is one of the top three UK research facilities of its kind, bringing together researchers from different disciplines to address contemporary problems from improving safety in our cities to testing the boundaries of digital communications.
The innovative, timber-framed building is home to Art, Design, Film, Music and Theatre Studies as well as LIVE@LICA which combines three public arts facilities; the Peter Scott Gallery, the Nuffield Theatre and the International Concert Series.
It also hosts the research group ImaginationLancaster where current work includes Urban futures - a international study of urban regeneration and sustainability, and Design for Flexibility - how design can help health care commissioning.
LICA Chair Professor Rachel Cooper said: "Lancaster has an excellent reputation for practice, teaching and research in the contemporary arts and cross disciplinary collaboration. We now have a space in which to work that reflects that excellence and provides the opportunity to pursue further creativity and innovation-led research, practice and teaching."
Professor Geoffrey Crossick, Vice Chancellor University of London officially launched the new LICA building on March 29th.
Highlights of the week-long festival celebrating the public arts and performance included:
· The Hollywood History of Art (lecture). Sir Christopher Frayling discussed Hollywood's impact on the public understanding of art and artists.
· Design master class. Joe Ferry, Senior VP, Global Guest Experience and Design, InterContinental Hotels Group, discussed the benefits of design to business and show how great brands use design effectively.
· A Mass Dance. A short, fun, large-scale outdoor dance work conceived and directed by professional choreographer and LICA lecturer Nigel Stewart.
· Audiosnap. Music and music technology students presented new audio works using short sound clips contributed by the campus community plus live performances from wind and brass bands.
LICA is also home to Highwire - a £6m Doctoral Training Centre led by staff from computing, design and management – which is training future leaders to meet the skills gap in the digital economy.
With interlinked social areas, open-plan offices and adaptable performance spaces, the new building is designed to be as flexible as possible, enabling students, staff, businesses and performers to tailor spaces to suit their needs.
Photovoltaic cells on the roof convert sunlight into electricity for the building and even rainwater is recycled and used to flush the toilets. Display panels by the front door provide real-time energy and water use readings so LICA users can keep track of their impact on the environment.
This term, electric car hook up points will be installed outside the building and two spherical, red cedar meeting pods have been built in the woodland around the building. Complete with power and data points, the eco-friendly offices will provide a unique meeting place for the University community and visitors.
Teaching
Students will benefit from the 1200sq feet of flexible flat floor performance space, flexible large screens for film viewings and dedicated acoustic music rooms. As well as new teaching and seminar rooms, students also have access to the central atrium forming the heart space of the building, for ad hoc exhibitions and performance.
Public arts
LIVE@LICA brings together three internationally-respected arts venues to create a single contemporary arts organisation for the campus, the city and the region. The new building offers an expansion of the current gallery and theatre and will host a myriad of public performances and events programmed by LIVE@LICA
Research
LICA's enormously rich and thriving interdisciplinary research culture is already highly rated – with 80 percent of work at LICA classed as world leading. LICA combined multi-disciplinary entry scored highly in the most recent Research Assessment Exercise, ranking in the top three in the UK in its panel (Art and Design).The new facility will enable researchers to continue to lead pioneering work ranging from investigating new creative practice in digital art and the cultural effects of new media to Asian cinema and African American popular culture.