University Scientists Protect European Landscapes
05/06/2004 11:40:16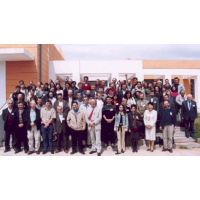 Please follow link to Greek newspaper article featuring the 13th European Vegetation Survey Workshop
Lancaster University scientists are using computer technology to help protect vulnerable landscapes across Europe and beyond.
Scientists are concerned that precious ecologically rich landscapes such as traditional Polish farmland could be lost or damaged in the wake of European expansion.
Steps have already been taken to set up a giant information system, which is capable of storing data about European plant species, vegetation and landscapes from Iceland to the Ural Mountains. New EU countries such as Slovenia and the Czech Republic are also already on board.
Professor John Rodwell of the Lancaster Environment Centre, who represents the UK on the project team, said it would be a vital tool to help keep track of plant life across the whole continent.
Once the database is complete, the information will be accessible through the internet and used by groups such as academics, NGOs, Governments and environmentalists. It will create a virtual "map" of plant life in Europe acting as a marker, which will enable scientists to measure future change.
Those behind the project – known as SynBioSys Europe – believe the information system will play a key role in efforts to preserve and protect European landscapes, particularly those which are vulnerable to sudden change.
Professor Rodwell said the European approach was especially relevant in the light of the recent expansion of the EU.
He said: "At the beginning of May the EU increased its membership and that broadens our view of what it is to be European.
"This collaboration has already brought more than 30 countries together to carry out sound science which will help safeguard the future of the Continent's natural resources."
Professor Rodwell has just returned from the 13th European Vegetation Survey Workshop held in Ioannina Greece where the SynBioSys Europe team gave a demonstration of the innovative software which has made the information gathering project possible.
Meanwhile moves to set up a similar project in the UK are already underway.
Lancaster University -working in conjunction with the Centre for Ecology and Hydrology and the British Environment Agencies – is working towards SynBioSys UK, an information system tailor-made to the landscapes and biodiversity of the UK.
· The Biological Science department at Lancaster University is part of the Lancaster Environment Centre – a £20m project bringing together Lancaster University researchers with the Natural Environment Research Council's centre for Ecology and Hydrology, Merlewood, and CEH Windermere to form one of the largest groups of its kind in Europe.