The International Centre for the Uplands
05/28/2004 12:19:19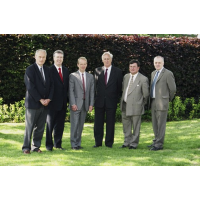 The International Centre for the Uplands - Cumbria could be "a place to dream new ideas and find roots for their implementation" according to Lancaster University Vice Chancellor Paul Wellings.
Professor Wellings chaired the official launch of the pioneering partnership venture – led by Lancaster University – at Kendal's Brewery Arts Centre this week.
Dozens of delegates from across the region gathered to hear newly-appointed Centre Director Kit Nicholson spell out the vision behind the initiative which he described as "an applied research centre which will also promote and celebrate the uplands of Cumbria."
The Centre will commission high-quality research into issues impacting on rural Cumbria such as agribusiness and agriculture, tourism and SMEs, new industry and technology and environment and culture.
The International Centre for the Uplands – Cumbria combines £736,000 of funding over three years from three agencies: Cumbria County Council, Rural Regeneration Cumbria - supported by the Northwest Development Agency - and the Lake District National Park Authority.
Partners in the Centre, which is led by Lancaster University, include the University of Central Lancashire, Voluntary Action Cumbria, and the Banff Centre for Mountain Culture (Canada).
Mr Nicholson said the Centre aimed to engage local communities.
"The uplands are extremely important. They act as a barometer, an extreme example of problems common to many rural areas," he said.
Professor Wellings said the project would help put Cumbria on a global map and had already attracted interest from organisations around the world from Canada to New Zealand.
In a video message the Rt Hon Alun Michael MP, Minister of State for Rural Affairs and Local Environment Quality, said the Centre would have an important role to play in helping farmers face the fresh challenges of the 21 Century. He wished the venture every success.
CCC head of cultural policy Bruce Bennison read out a message of support from Sir Chris Bonington CBE – one of the Centre's early champions - while CCC leader Coun Rex Toft congratulated Lancaster University in bringing "an exciting vision into reality."
Meanwhile Rural Regeneration Cumbria Chairman Charles Woodhouse welcomed the new Centre saying he was delighted it had embraced a secular programme – balancing agriculture, business, tourism, education, environment and community – while also recognising the spiritual value of the uplands.
NWDA chief executive Steve Broomhead said his organisation's commitment to the Centre showed its willingness to grasp the rural agenda.
"The upland communities are essential for the upland economy…The Centre will play an enormous part in regeneration and renaissance while striking a balance between economic development and the landscape."
Photograph caption
Left - Right
Charles Woodhouse (Chair, Rural Regeneration Cumbria)
Prof. Paul Wellings (Lancaster University VC)
Kit Nicholson (Centre Director)
Rex Toft (CCC)
Steve Broomhead (NWDA)
Neil Cumberlidge (Government Office North West Director of Food & Rural Affairs)