HBG TO BUILD ENVIRONMENT CENTRE
01/09/2002 15:56:54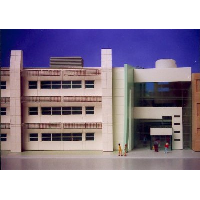 A letter of intent was issued to the construction firm HBG, on December 21st to build the Lancaster Environment Centre.
The £10.8m project will expand the University's Biological and Environmental research facilities and house the Centre for Ecology and Hydrology (CEH) who will relocate from their present location in Merlewood near Grange in Cumbria.
Construction will start on the site in late February or early March 2002 and completion is planned in May/June 2003.
The new building will consist of two wings, one for NERC and the other for the University. There will be five new specialist laboratories, 15 new glass houses and 10 controlled environment rooms, enabling the scientists to exploit opportunities in environmental chemistry, plant biotechnology, genomics and agriculture. These are areas where Lancaster already has a world class reputation.
Millions of pounds worth of specialist equipment will also be housed in the building. For example, NERC's Stable Isotope Facility, which allows scientists to track substances like nitrogen or carbon through the environment.