Student actor at the Oscars
02/21/2011 11:33:45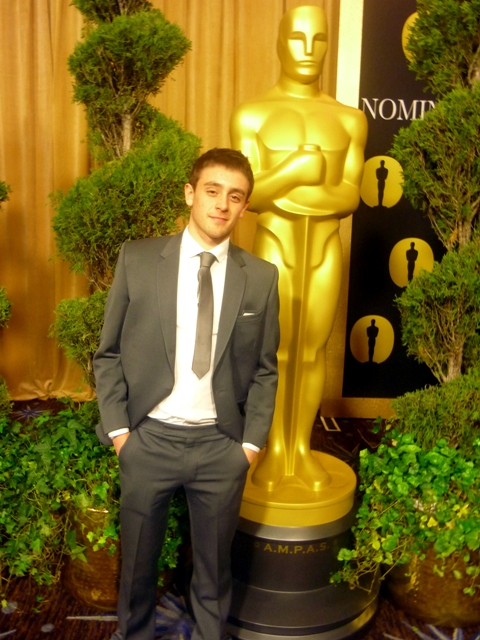 Sam Holland
A Lancaster University student has had his moment on the red carpet after finding out the short film he starred in was nominated for an Oscar.
Samuel Holland, a second year English Literature student from Bradford, made his big screen debut starring alongside Jim Carter and Lizzie Roper in Wish 143 which was nominated for an Oscar at the 83rd Academy Awards 2011.
Sam, 19, who was in LA this weekend, for the star-studded Oscar ceremony in Hollywood on Sunday 27, February, has already racked up credits on TV dramas such as Coronation Street and the BBC series Doctors.
Wish 143, directed by Ian Barnes, was produced as part of BBC Film Network's BBC Drama Shorts 2009 commission, in conjunction with Lighthouse Arts & Training and BBC Writersroom.
The film is about a fifteen-year-old boy with only months to live, who is granted one final wish from a charity. But instead of visiting Disneyland or meeting Gary Neville, David dreams of spending an hour alone with a naked woman.
The short has already picked up Best Short Film at The British Independent Film Festival, 2010 and the Audience Award at the Palm Springs Film Festival, 2010.
Sam said he could not believe his success.
"It's just a bit all over my head at the moment and it's overwhelming. It's humbling to be considered alongside actors at the Oscars and I can't believe it - it's surreal."
Sam wanted to be an actor since childhood and at joined a stage school in his hometown. This led to an audition for Coronation Street, where his first role was to play a thug.
He said: "I love being an actor but when I went to London to audition for Wish143, I had no idea how big it would be so I wasn't nervous. It was just luck that the film makers were touring all over the country looking for an actor and they just happened to come into my agency.
"It's busy at the moment because I've got my name on casting directors' lists - I've just been auditioning for Casualty and Lord of the Flies. But then it can go quiet for months so it's very up and down."
To watch the film go to http://www.bbc.co.uk/filmnetwork/films/p00bjp8d