Japan Comes to Lancashire
05/01/2009 10:26:31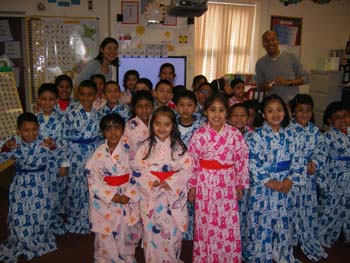 The children try on Japanese kimonos
Schoolchildren in Lancashire have been learning Japanese with the help of Lancaster University. International Officer Adrian Thomas and Linguistics PhD student Chihiro Inoue spent the day at St Hilda's C of E Primary School in Oldham following a request for help from the Japan Foundation in London for volunteers to work in schools.
Adrian is a registered Japanese language teaching volunteer with the Japan Foundation, and lived in Japan for three years as well as having an MA in Advanced Japanese. He and Chihiro, who is herself Japanese, provided the pupils with lessons introducing Japanese language and culture using materials provided by the Japanese Embassy. She said the day had been so successful she is now interested in teaching Japanese.
""I was amazed and delighted that my language could bring so much fun to the kids and the classroom. It was definitely one of the most fun, enlightening experiences I've had in the UK. I was at first very nervous, partly because I had no experience in teaching at primary level, and partly because I knew Japanese is rather a minor modern language taught in the UK. But the children were amazingly lively and took an immediate interest in the activities."
Each of the 45 minutes sessions began with a brief introduction to Japan and the children were taught a few Japanese words and greetings such as konnichiwa (hello), arigato (thank you), and numbers from one to five.
Adrian said: "We used school paints and brushes to teach them a few basic introductory Japanese characters such as Moon ( 月), Fire ( 火), Japan ( 日本). For this the school's interactive whiteboards were extremely helpful as you could use a 'magic finger' to demonstrate the characters directly onto the board. We also had the students use the numbers they'd learned in Japanese earlier to talk through writing each of the character strokes as they wrote. This went really well and even the youngest children were able to write the characters fairly clearly."
One of the highlights of the visit was when the children aged from 4 to 6 tried on 30 Japanese summer kimonos or Yukatas.
Adrian said: "As you'd expect this seemed to be the most fun part of the session for the children. We then finished up with a final greeting of sayonara (goodbye)!"