Memory Loss Student Awarded Degree
07/02/2004 11:35:39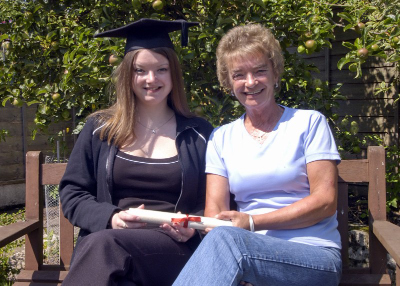 Leanne and Susanne Walker
A student who lost 21 years of her memory to Encephalitis has been awarded a psychology degree from Lancaster University.
Leanne Walker, now 23, turned tables on fate by fighting her way back from her illness to study her own experience of memory loss in a top-rated academic department. Last week her determination paid off when she and walked away with a 2:1 degree.
University tutors who helped ease her way back into learning have described her achievement as "remarkable".
Dr Peter Walker, a cognitive psychologist in the department of psychology, who worked closely with Leanne said: "It is a remarkable story. When Leanne came round in hospital she didn't recognise anyone, she had lost all her memory. When she came back to university she never once felt sorry for herself and to her the glass was always half full. She showed tremendous determination and approached her studies with such wonderful spirit that it was a pleasure to help her.
"When Leanne decided to study her memory loss as part of her degree we were able to look at her experience from a purely academic perspective.
The information she produced is valuable because it helps us gain a better understanding of how memory recovery works, and how it might be facilitated."
Leanne first enrolled for her degree in 1999 and got of to a flying start with her studies. But in the Christmas of her second year she was struck by the potentially fatal illness Encephalitis - a rare virus, which can cause inflammation of the brain.
Leanne was taken to Lancaster Royal Infirmary where she was assessed. A month later she was allowed home but tests revealed she had lost the majority of her memory.
Although her family were relieved she could return home it was a difficult time for all of them.
Leanne said: "I was totally dependent on my Mum looking after me because my memory only lasted seconds. I could hardly recognise anyone and I had very limited language. For example, although I knew what scissors were I couldn't remember the proper name for them and would call them paper cutters. When I was asked to draw a duck I gave it four legs because I didn't know they only had two."
Although Leanne was still struggling with basic tasks such as reading and writing, she was determined to get back to University.
Remarkably, just months later in September 2001, Leanne returned to her studies with the support of her family and staff at Lancaster University.
"I couldn't remember any of my first year so I started again at the beginning. My mum would drive me to lectures and sit outside in the car because I was finding small things like finding my way around and understanding directions difficult. But after the end of that academic year I began to get some of my independence back. It was a very challenging time but I knew I needed to do it to get back on track."
Just days after being awarded her degree by HRH Princess Alexandra at a degree ceremony attended by her family, Leanne was full of praise for all those that helped her along the way.
"I couldn't have done it without my family and without the department who have been brilliant all the way through."
Head of department Tom Ormerod said: "We are thrilled for Leanne who has come through the most extraordinarily tough set of circumstances to achieve what was, by the time she finished her studies, an extremely strong 2:1 performance.
"It was great that we had the systems in place to support her at Lancaster both at University-level and within the department. It is down to her determination and ability that she did so well in what at first seemed to be an impossible situation."
Although Leanne still has no memory up until the age of 21 she is determined to get back as much as she can. The department is also hopeful that the work on Leanne's memory recovery will be published.