Lancaster Links Up With New College
02/04/2010 15:19:51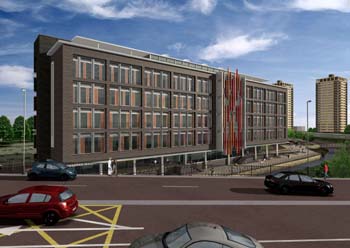 Rochdale Sixth Form College (artist's impression)
Lancaster University is to work with pupils from a new £26m sixth form college to offer advice on applying to university. Rochdale Sixth Form College will offer 34 different A and AS Level courses for around a thousand pupils when it opens in September 2010.
Fred Binley, Undergraduate Recruitment Manager at Lancaster University, said: "At Lancaster University we are keen to work with A Level students to help them to decide what they want from further and higher education and the direction they want to take their careers in, to give them the best possible chance of succeeding.
"We will be working with Rochdale Sixth Form College to offer presentations and workshops for students who need advice on courses, what to expect from the university lifestyle and how to apply. It is fantastic to be involved with what will soon become a centre of A Level excellence for Rochdale. Being brought in at this early stage gives us a chance to work alongside the college's staff to maximise our opportunities to work together for students' benefit from the very beginning."
Lancaster University was ranked as the best university in the North West by The Sunday Times University Guide 2010, while Times Higher Education named it as being among the best in the world. Lancaster University Management School is also regarded as being amongst the highest ranked in the world.
The principal of Rochdale Sixth Form College Julian Appleyard said: "For most A and AS Level students, going to university is their long term goal, so we want to give them as much support and advice as we can to fulfil their ambitions."
The new college will offer a study centre, fitness suite, theatre and drama studio, a music recording studio, science laboratories and specialist art and design studios.