Lancaster University catering manager rubs shoulders with culinary royalty
05/19/2008 14:08:24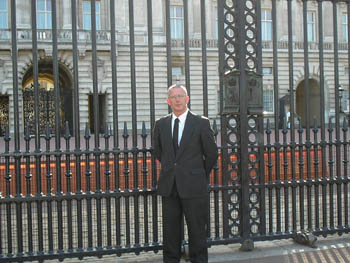 Tim Holmes
Lancaster University catering and conference manager Tim Holmes was invited to drinks and canapés with the cream of British catering at Buckingham Palace last week. Invited to the British Hospitality Reception on 6th May, by personal recommendation of the University's ex-chancellor Princess Alexandra, Tim joined 370 other guests in the palace, in recognition of his contribution to catering at the University over the years.
Local man Tim from Morecambe says he was "very chuffed to be invited" and said it was "quite overwhelming".
Once past the high security of the palace, Tim found himself exploring the variety of drawing rooms in the company of The Duke of Edinburgh, UK tourism mogul Rocco Forte, and food connoisseur Egon Ronay. They were introduced to the Queen and spent the next few hours mingling and enjoying the event. A number of people of culinary fame, such as Gordon Ramsey and the Stein family, were in the room, leading to excellent conversation and networking opportunities.
Tim has worked with University catering to constantly develop and offer new products. He recommends Infolab's rooftop café as and example if the best catering on campus.