Medical student praises the new course at Lancaster
10/30/2006 08:41:24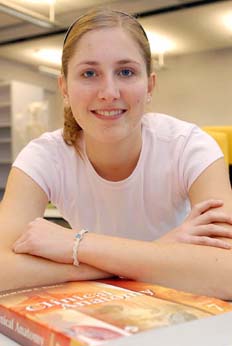 Rhiannon Oliver
One of the first students on Lancaster University's new medical course says she is enjoying the personalised tuition and friendly atmosphere.

Rhiannon Oliver, who is 19, attended Lancaster Girls Grammar School where she took A Levels in Maths, Biology, Chemistry and AS Level French.

She is one of 50 students on the undergraduate medical degree at the new Centre for Medical Education, part of an expansion of medical training announced by the Higher Education Funding Council for England.The aim is to boost the number of doctors in North Lancashire and Cumbria because evidence shows that medical students are more likely to stay in the area where they studied.

She said:"It's good having a small intake because we get really individual attention and you get to know everyone on the course.We started the course a week before freshers so we all bonded really well before everyone else even arrived."


Rhiannon decided to study medicine at the age of 15.

"My mum's a nurse and I've always liked the caring side of the health professions. That appealed to me along with working with people, doing your best for them and trying to improve the quality of their lives."

After A Levels, she spent part of her gap year as a chalet girl in France before travelling round the US but she has also found time to gain work experience relevant to her future career.

"I spent a week at a GP's practice in Kendal, sitting in on consultations and watching minor operations. They were very welcoming and I really enjoyed it. I met expectant mothers, young people, old people, all with a wide range of problems. It was nice to see patients who got on well with the doctors so you could see the trust was there between them.I've also worked as a carer going round people's homes and I volunteered at Laurel Bank nursing home in Lancaster during the school holidays."

Her five year course includes clinical training at the University Hospitals of Morecambe Bay NHS Trust and primary care centres in North Lancashire and Cumbria.

"I'm looking forward to working in a hospital because it will be exciting and the first placement is in March."

The medical students at Lancaster follow Liverpool's highly regarded curriculum and will graduate with a Liverpool degree. This Problem Based Learning curriculum uses medical scenarios to teach students different subjects.

"There's so much knowledge to take in that it can seem a bit daunting but you have to break it down. We've started off with the digestive system and it's based on real-life situations so you have to work out what to do yourself which is better."

Rhiannon is spending the first year living at home at Brookhouse near Lancaster.

"It's worked out really well because I come onto campus, work in the library and then go home to a proper meal! My family are pleased I'm so near, though in the second year I'll move into a house in town with friends."

This expansion of medical teaching is the result of collaboration between Lancaster University, the University of Liverpool, UCLAN, St Martin's College and the University Hospitals of Morecambe Bay NHS Trust. Lancaster University will be leading medical education delivery in Lancashire and Cumbria and aims to expand the number of places on the course in the future.