Nuffield commissions hit the fringe
08/14/2007 16:21:44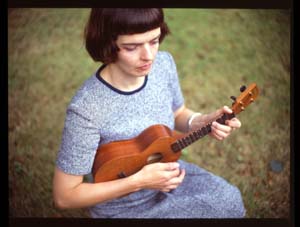 "Alice Bell" by Lone Twin
Two shows commissioned by the Nuffield Theatre at Lancaster University have been selected for the British Council's showcase at the Edinburgh Festival fringe later this month. The shows - "Alice Bell" by Lone Twin and "A Pastoral" by Uninvited Guests - were developed and shown at the Nuffield last year, and were co-commissioned by the Nuffield alongside the Junction in Cambridge, Kunsten Festival Des Arts in Brussels, and Sophiensaele in Berlin.
Nuffield Director Matt Fenton said: "Several recent Nuffield-supported shows have taken this route to international touring through the British Council. This is one of the main ways in which the Nuffield acts on an international stage".
The shows will now be seen by the many international promoters and festival programmers attending the Edinburgh Festival.
Uninvited Guests present 'It is Like It Ought to Be: A Pastoral', Pleasance Courtyard, Edinburgh, 11am, 18-25 August.
Lone Twin present 'Alice Bell', Demarco Roxy Art House, Edinburgh, 6.25pm, 20-25 August.