Award winning Australian war correspondent gives Lancaster University peace lecture
10/02/2009 11:04:35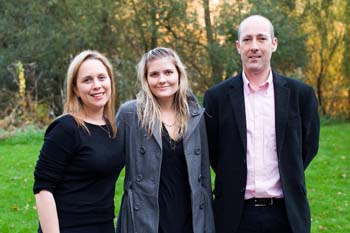 Dr Victoria Mason and Dr Feargal Cochrane with Sophie McNeill (centre)
Award winning Australian foreign correspondent Sophie McNeill delivered the Lancaster University 2009 Richardson Institute Annual Peace Lecture ro a packed audience.
The Richardson Institute is a peace and conflict research centre and part of the Department of Politics and International Relations.
Sophie gave a free public lecture entitled "Reporting from conflict zones: telling the stories of the victims". Drawing on her experiences as a foreign correspondent in locations such as East Timor, Iraq, Pakistan, Palestine and Israel, Sophie discussed some of the critical challenges facing journalists working in conflict zones, such as issues around 'embedded' journalism, how new media forms have impacted journalism, and the need for greater empathy for the victims of conflict.
Sophie has covered some of the world's most difficult and dangerous stories and she has been based most recently in Jerusalem, Beirut and New York. Regarded as a seasoned foreign correspondent, Sophie made her first documentary in a conflict zone when she was 15 years old and is still only 23. In her talk, Sophie said she became a journalist out of the fervent belief in the power of individuals to make the world a better place, and that she still holds to this despite all the horrors she has seen.
Her courage as a journalist and her commitment to tell the stories of those affected by conflict and injustice have been recognised in the wide range of awards she has received, including the highest award for an Australian journalist– the Walkley Young Australian Journalist of the Year 2008.
She was also awarded Western Australia's Young Person of the Year Award (when she was just 16), was a New York Film Festival finalist in 2006 and was honoured as the 2008 Young Woman of the Year and Journalist of the Year, an award given by Australia's women's magazine YEN.
The organiser of the lecture, Dr Victoria Mason of the Richardson Institute, said :"Sophie's talk was incredibly inspiring. She got a great response from the audience and is proof that one person can make a real difference. The Richardson Institute was delighted that Sophie was able to take the time out of her relentless schedule to give this year's lecture."
This year's lecture was the fourth annual peace lecture at the Richardson Institute. The Institute is a peace and conflict research centre and part of the Department of Politics and International Relations. It was established in 1959 as the first peace research centre in Britain. The inaugural lecture was given by the renowned Middle East correspondent of The Independent Robert Fisk, who is an alumnus of Lancaster University. Other year's lectures have been given by Martin Bell and Tony Benn.