Lancaster Plant Scientists pass expertise onto industry
11/27/2000 16:19:33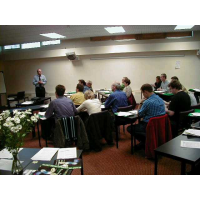 Lancaster University plant science experts are helping industry leaders in plant physiology and agrochemistry become more competitive.
The University's Plant Sciences for Industry group held the first of a 3-day course designed to provide research chemists with a fundamental understanding on how plants work in order to improve their success in developing agrochemicals for crop protection.
Delegates were from sector leaders: Zeneca Agrochemicals, Aventis Crop Science, Bayer, Rohm and Haas, AH Marks & Co and the University of Nottingham.
- The course provided training in the use of contemporary techniques and understanding of the theory underpinning modern plant physiology to help the continued success of plant based industries.
- Developed the potential to apply knowledge of the fundamental components of a plant's physiology for commercial benefit.
- Enhanced the capability of plant-based industry to ensure the success of emergent technologies, by delivering sound training and research opportunities in cellular, whole plant and crop level physiology.
Head of the group, Dr Mark Bacon said: 'No delegate had much biological sciences training prior to this course and the training that they have received will both equip the delegates with a better understanding and will ultimately translate into improved competitiveness of the companies and organisations who attended. Due to the excellent feedback from the delegates we are planning further industry-focused courses to be run in 2001'.
The course, Advanced Plant Physiology for Agrochemistry, was held on 7-9 November 2000.
For details of future courses please contact Dr Mark Bacon, Plant Sciences for Industry, Biological Sciences, Lancaster University Lancaster LA1 4YQ. Tel. 01524 592785