Lancaster Students Encourage Pupils into University
11/12/2010 12:08:26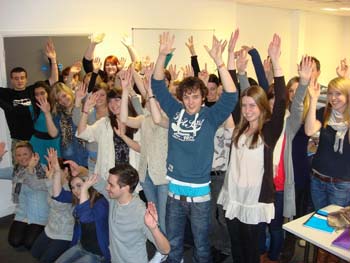 Lancaster students on the Aimhigher Associates scheme
Over a hundred pupils from Blackpool to Heysham are being encouraged to go into higher education with help from Lancaster University. Thirty Lancaster University students are working with pupils from years 9 to 13 as part of the Aimhigher Associates scheme which offers long term support, advice and guidance to future university students.
The Lancaster students, who are specially trained, will be working with pupils at various schools in the North West including Blackpool Sixth Form College, Highfield Humanities College in Blackpool, Heysham High School, Our Lady's Catholic College in Lancaster, Millfield College in Thornton Cleveleys and Fleetwood Sports College.
Sarah, a third year Lancaster student working on the project said: "Being an Associate gives me the chance to build up my skills while doing something I really enjoy – helping young people who deserve extra support."
The scheme is being organised by Lancaster University's UK Student Recruitment and Outreach Office whose head, Fred Binley, said: "This is a great project, especially because of the peer mentoring aspect of the scheme. Our current Lancaster students are actively helping bright young people from disadvantaged backgrounds who should, but traditionally don't often, consider progression on to higher education.'
The relationship between Lancaster Associates and pupils will develop over time with Associates on hand to provide support and guidance as pupils progress through school, enabling them to explore the full range of higher education options open to them, and make important decisions about their future.