International Audience for Mobile Games Expert
03/14/2007 10:48:11
A Lancaster University researcher has caught the attention of technology media after giving a talk at an international conference in America.
Games researcher Dr Paul Coulton has had his work featured in a number of technology magazines and websites after he gave a presentation on the future of mobile phone games at the Game Developers Conference in San Francisco on March 6.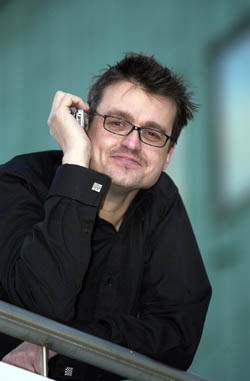 Dr Paul Coulton
The conference is the premier event of the world games industry and attracts the likes of Shigeru Miyamoto - who is arguably the father of the modern video game and the man behind Nintendos DS and Wii.
In his presentation 'Using Touch, Sight and Gesture in Mobile Games' developer Dr Coulton, who is based in the University's Infolab21, discussed a number of innovative ways in which mobiles can be used to play games in new situations – for example by using the mobile phone's camera or 3-D motion sensors to play games in real time and space with other mobile users.
Speaking at the event Dr Coulton said: "The innovative motion controller of the Wii has had an amazing impact in attracting new audiences across all ages and genders to video games. Combining motion sensors in phones could ultimately be even more dramatic as we can create unique ways of interacting with these devices and not just for games. Imagine making a phone call but instead of typing the numbers you write them in the air! The possibilities are endless and the experiences will be unique."
Following his presentation his work has been featured in publications including Business Week and Next Generation.
http://www.computerandvideogames.com/article.php?id=159342
http://mobile.qj.net/Can-mobiles-out-Wii-the-Wii-/pg/49/aid/85084
User playing game with motion sensing phone interacting with large public display