Lancaster University Eco-Residence gets BREEAM "Excellent" Accreditation
02/15/2008 15:57:32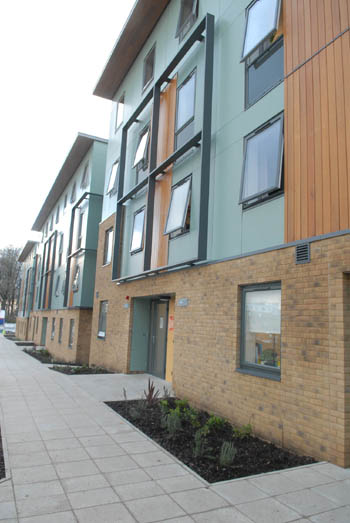 Eco-friendly accommodation
It was announced today that the fourth phase of the University Partnerships Programme's development of Student Accommodation for Lancaster University has just been awarded an Excellent rating by BREEAM (BRE Environmental Assessment Method) assessors. Part of the scheme has been handed over and is now occupied by students.
The Eco-Residence model has been developed by the UPP team and Lancaster University. The first template of its kind in the higher education sector, it marks a giant step forward in sustainable accommodation for students.
The Lancaster development is now one of only four student accommodation buildings in the UK to have achieved BREEAM Excellent status. Its innovative new design provides a total of 752 new rooms, together with some one- and two-bedroom flats, in an environmentally-friendly home where students can monitor their utility consumption online on a real time basis. Incentives will be offered for lower utilities consumption.
By using timber sourced from sustainable, managed forests for the building's superstructure, UPP was able to reduce the carbon footprint of the build by 30%. Timber frames were manufactured offsite in order to minimise waste, and a range of energy and water saving technologies have been implemented to ensure continuous sustainability.
Students can also enjoy the benefits of roof mounted solar thermal panels to preheat the hot water, lighting controlled by Passive Infra Red (PIR) units, enhanced air tightness and insulation levels, all designed to keep utilities usage to a minimum.
Clive Crawford, chief executive of UPP, comments: "The BREEAM accreditation highlights the work that we have put into making the Eco-Residence a viable template for sustainable student accommodation. These are the homebuyers of tomorrow, so encouraging a greener outlook today will help to benefit everyone going forward."
Mark Swindlehurst, LancasterUniversity's director of estate management, adds: "This new, eco-friendly accommodation will help us to attract increasing numbers of students from across the UK and internationally. Importantly, it has been designed as an environment that will encourage 'good habits' in terms of sustainable living, day-to-day. The design process has been exemplar with students, colleges, the University and UPP working together to design the very best student accommodation. It is designed and built more sustainably, it is cheaper to build than conventional construction methods resulting in lower rents to students and it will use less energy in operation. We're proud to be setting this standard for future best practice."