UK Space Research Goes Online
02/20/2007 09:50:34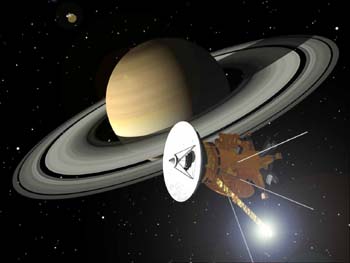 UK Scientists played a major role in the joint NASA/ESA Cassini mission to Saturn (courtesy of NASA)
Members of the public will get the chance to question the world's leading space scientists with the launch this month of an interactive website set up by Lancaster University.
The site is the idea of Dr Jim Wild of the Department of Communication Systems at InfoLab21 who wants to showcase the UK's record of world class space research.
The www.sunearthplan.net website is aimed at people interested in finding out more about research into the solar system. Anyone will be able to post questions on the website for scientists to answer.
Dr Wild said: "Whether using satellites to study the heart of the sun or the sizzling radiation found in Saturn's magnetic field or ground-based cameras and radars to probe the northern lights high over the arctic circle, UK scientists are at the forefront of solar, solar-terrestrial and solar planetary science. The www.sunearthplan.net website will showcase this exciting science and provide a forum for visitors to question the scientists directly."
The launch is timed to coincide with the launch of the UN's International Heliophysical Year, when scientists and engineers from all 191 member states take part in an international campaign to promote the space and earth sciences.
Dr Wild said: "The UK has an enviable record in space research and a significant number of UK scientists work on programmes operated by NASA, the European Space Agency and the Chinese National Space Administration. Lancaster University has a strong record of being a part of this and I wanted to showcase what we do here in the UK.
"It's important because space research leads to developments which affect us all like nuclear fusion from understanding the power source of the Sun. There are even plans to send astronauts back to the moon and to Mars but we need to understand much more about space if we are to do that successfully."
The website project is funded by the Particle Physics and Astronomy Research Council. Other organisations contributing to the website include the British Antarctic Survey, Imperial College and University College, London, and the universities of Leicester, Bath, Southampton, Sheffield and Aberystwyth.
The website is one of the external sites on the BBC science website.