Lancaster University MA Show - Peter Scott Gallery 4 - 7 September
08/25/2002 14:31:46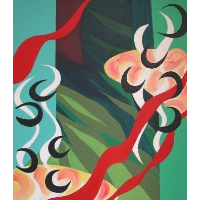 The MA Show is a chance to see a selection of rich and varied artworks produced by students at Lancaster University as part of their Masters Degree in Art Studio Practice. The MA course fuses practice and theory, and enables students to develop their fine art practice to a professional standard.
This exhibition is the culmination of a period of intense and focused investigation by each artist. Rachel Catton's vibrant abstract acrylic paintings explore the transformative power of creative action. Joshua Howe's oil paintings examine the psychic spaces where conscious meets unconscious, and focus on the dream, fantasy and fable. Robert Johnson's carefully executed portraits using pastels on wood support, question what portraiture can reveal about the character of the subject. Lucy Mersh's sculptures explore the use of the appropriated object and the potential it has as an expressive medium.
The MA Show is an opportunity to purchase original works of contemporary art at competitive prices. Catalogues will be for sale. The exhibition will run at the Peter Scott Gallery at Lancaster University from 4 - 7 September, and will tour two other venues later this year - the Storey Institute in Lancaster and the Open Space Gallery in Cambridge.