Preschool Extension Opens
05/03/2004 11:07:53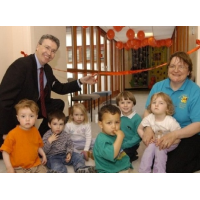 The ribbon was cut on a set of new facilities at Lancaster University Preschool this week.
Vice Chancellor Paul Wellings formally declared the two new childcare rooms open at a special ceremony for children, parents and staff.
The two rooms – a baby room for three to ten month old babies and a preschool room for three to four year olds - will help provide up to 36 extra spaces at the centre.
Centre manager Moyna Kemp, who has worked at the preschool centre for ten years, said she and the rest of the staff were delighted to have the new space.
"The university is expanding and the additional space means we can offer more parents among the staff and students what they need."
Professor Wellings said Lancaster University could be proud of the fact it had been offering childcare for its entire 40-year history and the latest expansion was an important development. He thanked all those involved in the project and gave special thanks to the preschool staff.
"The preschool centre provides a vital resource for student and staff families. We are a growing university and this resource is important for people wanting a safe environment for their children. Childcare is something the university has provided from its inception and that is something which we should celebrate."
· The on-campus centre, established in 1964 provides day care for children of staff, students and families from the local and wider community aged upto seven years.