InfoLab21 Strengthening Science in the Northwest
04/18/2007 17:26:19
Lancaster University's InfoLab21 was one of the key regional developments singled out for praise at the launch of the new Northwest science strategy.
The Northwest Science Council and the Northwest Regional Development Agency unveiled the new Northwest Science Strategy 2007-2010 this week (April 18). It aims to position the Northwest as an international centre of excellence for Science.
InfoLab21, which opened in 2004, is the Northwest Centre of Excellence for ICT and a leading research, development and business centre in Computing and Communication Technologies.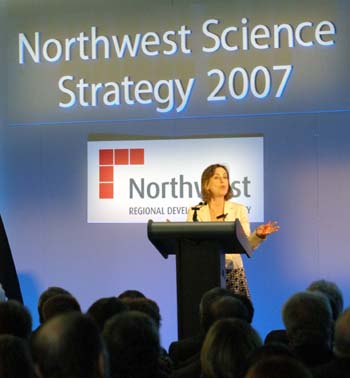 Kirsty Wark praised InfoLab21 as an example of good science infrastructure in the region
BBC Newsnight presenter Kirsty Wark, who hosted the event, said InfoLab21 was one of the examples of improvements in science infrastructure in the region since the launch of the first strategy in 2002.
The Cockcroft Institute was among the other developments highlighted at the event. The Cockcroft Institute, based in Daresbury International Science Park, is an international centre for research and development in Accelerator Science and Technology. It is a joint venture involving the Universities of Lancaster, Liverpool, and Manchester, the Particle Physics and Astronomy Research Council (PPARC), the Council for the Central Laboratory of the Research Councils (CCLRC), and the NWDA.
Speaking at the launch at AstraZeneca, Alderley Park, Cheshire, Lancaster University Pro Chancellor and NWDA Chairman Bryan Gray said:
"The Northwest's economy has the infrastructure, critical mass and business R&D potential to grow significantly in the coming years and this Strategy aims to have the greatest impact over this medium term. This is when we can help shape the growth of existing companies and the formation of new ones, and help to meet the science and technology needs of regional businesses through co-ordinated efforts across the science base."
Also speaking at the launch event the Rt. Hon Alistair Darling MP said:
"Science is at the heart of the renaissance of the Northwest, helping generate the jobs and investment the region needs. We have world leaders in this region from AstraZeneca to Daresbury; Manchester to Merseyside science parks. The regions second science strategy centred around coming technologies such as bio-health and chemicals has a major part to play in building on that success. We will continue to support science, we have more than doubled spending to £3.5bn since 1997, as it has such a key role to play in the country's and the Northwest's future."
For further information go to www.nwda.co.uk/news or visit the Northwest Science web site at www.northwestscience.co.uk