Bridge building between faiths
11/21/2005 11:39:27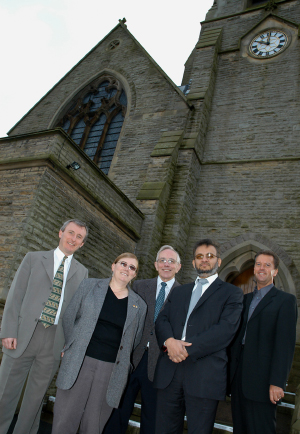 Andy Williams, Margaret Richardson, Colin Wills, Hamid Qureshi, Andrew Holden.
Lancaster University has launched a new project to help build bridges between faiths in a Lancashire community.
The Burnley Project is a joint initiative between Lancaster University's Department of Religious Studies, Building Bridges Burnley and The Home Office, which is funding the project to the tune of £120,000 over two years.
The project seeks to discover how different faith groups perceive one another in Burnley and to support interfaith dialogue.
It aims to build on work already begun among different religious and community groups since the summer of 2001 when the Lancashire town saw racial tension explode into violent confrontations.
Members of Burnley's different community groups - Muslims and Christians of all denominations - have been to working together to share ideas and experiences in a number of settings including the multi-faith organisation Building Bridges Burnley.
The Burnley Project aims to take that initial work further.
Previous research in this field has focussed on racial and cultural differences but this new project recognises faith as a key element of identity and belonging. By bringing different faiths together and developing mutual understanding and respect, the project aims to work along side the Building Bridges team in Burnley to build a more cohesive community. It will also look at examples of other interfaith projects in another town or city to make comparisons and draw up some recommendations about the kind of interfaith activities that are most effective.
In the first year, the Burnley Project will gather information about the faith groups and communities in the town of Burnley, and examine the role faith plays in cohesion in society.
In its second year, the project will work to build dialogue between members of different faith communities – with particular reference to younger people.
Lead researcher on the project, Dr Andrew Holden, who is from a teaching background, said: "In some areas, Burnley is a segregated community. There are people in the town who are living parallel lives. There is already some very positive work taking place across communities including schools where many problems and prejudices can be tackled and tolerance and understanding increased."
The Burnley Project is directed by Dr Alan Billings of The University's Centre of Ethics and Religion – part of the Religious Studies Department.
Dr Billings said: "It is important that we get a clear picture of the community – for example to say there is an Asian community in Burnley is not accurate enough. That community is made up of several different groups. Also, this project makes a clear distinction between race and faith. They are not the same thing. A Muslim is not necessarily Asian, nor is a Christian necessarily White. The Burnley Project is very forward looking, it is asking how the future can be different from the past."
Building Bridges Burnley co-ordinator Hamid Qureshi said: "This project is very important as there is a huge amount of work going on in Burnley focussing on community engagement. We are very happy to be working with Lancaster University because the University will help evaluate these projects to establish what is most effective and what could be of use countrywide. We are also interested in the longer term in developing some training for faith leaders. Lancaster University, as an educational establishment, can play a very important role in investigating this possibility.
"We are pleased this project is now underway, we are facing a number of challenges but we have many aspirations and we feel very positive about what we can achieve."