Entrepreneurship Fellowship For Charlotte
07/31/2008 11:08:10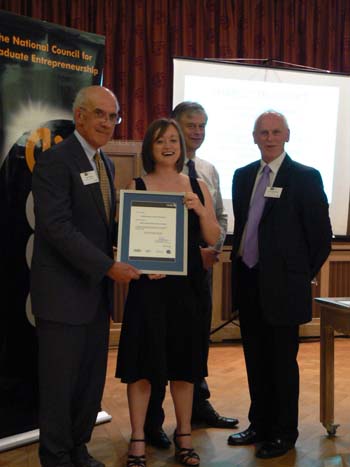 Charlotte Stuart receiving her award
The manager of a Lancaster University project to support creative businesses has been made a Fellow of the National Council for Graduate Entrepreneurship.
Charlotte Stuart is the Project Manager of Grow Creative based in the University's Innovation and Enterprise Unit where she helps creative businesses such as professional artists develop and grow. She also promotes graduate consultancies where students carry out a project at a local company.
She was awarded the Fellowship after completing the year-long NCGE International Entrepreneurship Educators' Programme (IEEEP), which aims to develop an entrepreneurial mindset and enables participants to teach what they have learned.
The NCGE aims to embed the entrepreneurial culture among universities in the UK and foster the idea of starting a business as a career choice amongst students and graduates.
Charlotte said: "I'm pleased because this strengthens the University's links with the NCGE and shows that I have the skills to develop entrepreneurship education at Lancaster. I'd now like to take this further within FASS and the NCGE course has enabled me to do that with confidence."
The NCGE praised her work on integrating aspects of the International Educators' Programme into her work with both Grow Creative and with the graduate consultancies for FASS students, where students undertake a placement in business.
Professor Paul Hannon, NCGE Director of Research and Education, said: "Charlotte has shown leadership and drive at Lancaster University in creating links between CEEC and the Management School to promote entrepreneurship, as well as encouraging entrepreneurship focused on the creative industries through the establishment of the Young Creatives Network and entrepreneurship taster courses for students in these subjects.
"The active development and promotion of initiatives like these will begin to fulfil key aims, articulated in the UK Government's new Enterprise Strategy in consultation with the NCGE, to work towards long term cultural change in our universities. In shaping the institutional environment by embedding good practice so that enterprise and entrepreneurship can flourish, Charlotte's work will help Lancaster to gain great success in this area."
This is the latest award for Charlotte. In 2005, she received the Chancellor's Medal after gaining one of the highest final marks for postgraduate study in her MA in Applied Research and Consultancy.