Lancaster Student judges British Council Shine Awards
05/02/2007 16:32:13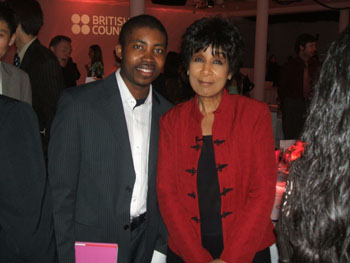 Akanimo Odon with Moira Stuart
Lancaster University Student Akanimo Odon was one of five judges on this year's annual British Council 'Shine' International Student Awards.
Last year the 27-year-old Nigerian won the award, earning the title of International Student of the Year.
Now in its fifth year the scheme is designed to celebrate the non-academic achievements of international students studying in the UK.
Akan took his place on a five member judging panel on the 25th of April, 2007. The Panel included a representative of the British Council, a representative of the Ministry of Education, a representative of UKCOSA and the International Student Officer of the NUS, UK.
He also attended the awards ceremony which took place at the Delfina Studios, London and was hosted by the BBC's Moira Stuart.
Akan, a PhD student in the Environmental Science Department, said: "It was a privilege to be on the judging panel and a very interesting experience to see the event from the other side after being an entrant on last year's awards."
The award was won by Yu Huai Zhang who is from China and is studying at Queen's University of Belfast.