'Corrie' Chorus for Lancaster Graduate
02/13/2006 14:24:13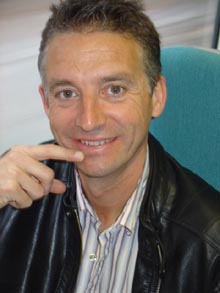 David Swan
Lancaster graduate David Swann (Creative Writing, M.A., 1994-95) has launched his debut short story collection with the help of a trio of stars from 'Coronation Street'.
The celebrities joined forces for a charity launch at the Taurus Bar in Manchester, where they performed humorous stories from David's new book 'The Last Days of Johnny North' (Elastic Press, £6.99, www.elasticpress.com).
Julie Hesmondhalgh, who plays the Street's trans-sexual character Hayley Cropper, organised the event to raise money for Maundy Relief, a homeless charity in Accrington, the Lancashire valley town where both she and Dave were raised.
Joining Julie on stage were Julia Haworth, who plays the Street's nanny Claire, and Paul Simpson, who recently played a baddie in the soap. The performance was directed by Julie's husband, Ian Kershaw, author of the hit play, 'Get Ken Barlow!'
Dave, who is described by the Penguin author Alison MacLeod as "one of the most vivid short story writers in the UK today" says that he owes a good portion of his success to the Creative Writing tutors at Lancaster University.
"The M.A. helped me to find my voice as a writer – and gave me the confidence to put my work before the public," said Dave, now a prize-winning poet and author. "I was taught by three very different people – Linda Anderson, David Craig and Alan Burns. Their approaches created a rich, varied brew. It was one of the most exciting years of my life. I even got to the cup final in the post-graduate football team!"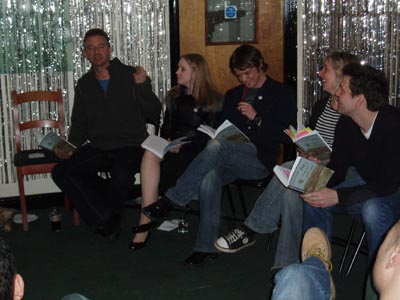 Dave, who was born a few doors up the street from his childhood neighbour, the author Jeanette Winterson, has worked as a film reviewer, sports journalist and teacher since leaving Lancaster in 1996. He is currently a lecturer in English at the University of Chichester, and lives in Brighton.
He says that most of the stories in 'The Last Days of Johnny North' are about life and love in Lancashire, but several of the pieces also focus on his former job as Writer in Residence at Nottingham Prison, where he was employed by the Arts Council to spread literacy amongst both lifers and short-term inmates.
He describes his fiction as "a mixture of Hollywood sci-fi and Lancashire pies. I like to think I've invented a new genre. Pie-fi."