Chancellor Sir Christian Bonington says new Sports Centre is for 'whole community'
07/16/2010 12:32:49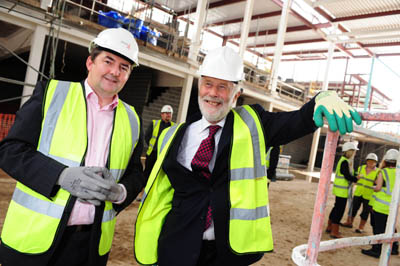 Mark Swindlehurst, Lancaster University's director of facilities (left) with the Chancellor Sir Christian Bonington.
Lancaster University's Chancellor, Sir Christian Bonington CVO CBE DL, was on campus to visit the site where the new £20m sports centre is being built, on Wednesday 14 July to inspect the progress. The 6,000 sq metre centre, which is visible from the A6 , will open in Summer 2011.
Distinguished mountaineer Sir Christian said that the new Sports Centre will offer 'something for everyone' and he particularly hoped that climbers, schools and young people will enjoy using the new indoor climbing wall and bouldering cave, which he helped to design .
"This is certainly going to be the best climbing wall in this particular area, so I'm quite sure that both schools and young people and climbers are going to get a great deal out of it as well.
"Indoor climbing walls are absolutely brilliant for children... youngsters absolutely love it.
"The university should be an integral part of the community," says Sir Christian, "and I think we're doing that very successfully."
When complete, the centre will be 30 percent bigger than the University's existing sports facility which was opened in 1967. The eight lane pool will include a 'floating floor' which can vary the depth.
The state-of -the -art centre will also offer health & fitness suites, sauna & steam room, badminton and squash courts amongst other facilities.
The Chancellor was shown around the site by Director of Facilities Mark Swindlehurst and met the contractors GallifordTry.
The Sports Centre forms part of the University's ongoing investment programme in residential, academic and social facilities. The design and development process took two years to ensure a high-quality design which shows consideration to the surrounding area. It will be open to staff, students, schools, and the local community.
The building has been designed to achieve the BREEAM 'Excellent' rating, which sets the standard for best practice in sustainable design.