Knowledge Business Centre helps student start-up company
12/16/2004 09:47:45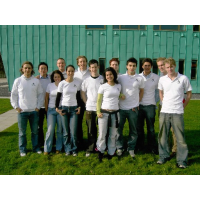 A group of students from Lancaster University Management School have set up their own company - thanks to the help of the Knowledge Business Centre (KBC) at InfoLab21.
They have launched a student website, Linkaster.com, which aims to create a virtual community for Lancaster students to help them communicate more effectively with one another. The site includes chat forums, a photo gallery, a directory of local businesses, events information, jobs, a classified ads marketplace, and information on colleges and societies.
"The emphasis is that it has been created for by students for students," said third year business studies student Clemens Friedrich, whose idea it was to launch the site and who is now managing director. " Already over 1,500 members are signed up and we are signing up more on a daily basis."
Clemens set up the site with four friends, all of whom are now equal partners in the company and in their final year at Lancaster University - Christopher Wong, Fredrik Weibull,Erik Jennefelt and Peter Price. They are helped by a team of volunteers.
Advertisers and corporate sponsors have the opportunity to market their products or services to potentially 25,000 students across Lancaster, and already several local businesses - on campus and beyond - are on board.
Linkaster.com has had financial support and business advice on company formation from the University's Business Enterprise Centre through its business support project for local entrepreneurs and now receives continuous specialist support from the KBC where it now operates from a virtual office environment. The KBC is at the heart of the University's focus of technology transfer, industry training, exploitation and innovation and enables the University to strengthen its links with business and enterprise through an umbrella of industry training and technology transfer activities. The KBC also provides research and development co-location through business unit space and contains a range of businesses from software developers to networking specialists and search engine specialists.
The £15m building, was made possible with funding from the Northwest Development Agency (NWDA) and the European Regional Development Fund (ERDF).
Clemens said: "It's an amazing service we have had from the Knowledge Business Centre - we would not have been able to do this without their help. It would have been impossible to set up in business without the advice and the marketing grant."
The company has a fax, telephone and business address at InfoLab21 and can hold meetings there. Now it is looking at the possibility of expanding to other campuses.
"We would like to expand to other campuses, but want to keep the spirit of 'by students for students' – make it available more widely but always keep it local," said Clemens. He added that he and the founder members of the company had found the experience useful both for their studies and for future business opportunities. "This has been a phenomenal experience for us."
KBC director Steve Riches said: "This is just one example of how the Knowledge Business Centre can work with business and the community to make a real difference. We are engaged in discussions with a range of ICT-based SMEs (Small to Medium-sized Enterprises) and many have already taken up residency in the Centre. We are delighted that we were able to work with Lancaster University students in this way so early in the Centre's development and now look forward to helping more student businesses develop."
The site can be found at www.linkaster.com
Businesses can log onto www.linkaster.com/corporate
InfoLab21 KBC site at www.infolab21.co.uk