Shadow of Venus brings history to life
06/16/2004 16:27:26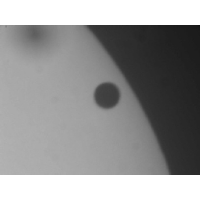 As the shadow of Venus passed across the sun this month it had a special resonance for a Lancaster University academic.
Although Venus has not passed in front of the sun within the last Century Dr Angus Winchester of the University's History Department experienced a feeling of déjà vu on June 8 when Venus came between the earth and the sun.
As part of his local history research the Cumbria-bred academic came across a first-hand detailed account of the transit of Venus penned more than two centuries ago by a Yeoman farmer Isaac Fletcher of Mosser near Cockermouth in 1761
During a transit of Venus, the planet Venus passes directly between the Earth and the Sun. From the Earth, observers watching the transit will see a circular shadow creeping across the face of the Sun. There are at most two transits of Venus every century.
In his diary the West Cumberland farmer describes gathering with two other local men to view the rare event, which they had prepared for by setting up a solar telescope and a white cloth at Fletcher's home in Mosser.
Dr Winchester said: " The transit in 1761 was the first since 1639: clearly Fletcher was tuned into the scientific community, knew when the transit would take place and had prepared the necessary equipment. Although slightly ambiguous, the diary entry implies that Fletcher viewed the transit with two other Quakers: 'George' was George Bell, a Cockermouth stocking manufacturer in his 40s; Elihu Robinson was fellow yeoman from the village of Eaglesfield and a young man of 26.
"His record of the transit of Venus is meticulous and detailed: Fletcher was part of the world of amateur scientists in rural England of the 18th century."
West Cumberland Farmers view transit of Venus, 1761 - Extract from the diary of Isaac Fletcher, Saturday 6 June 1761.
George and Elihu Robinson here. This morning about four observed the transit of the planet Venus over the sun's disk with a solar telescope. The sun then appeared large with a thin black cloud over it, which soon went off as the sun rose higher in the horizon. The image of the sun & the planet Venus as a black spot appeared very plain upon a white cloth put up for that purpose. The path of the planet over the sun's disk was easy to delineate and very curious to behold, tho' clouds sometimes interfered. It went off the sun about 35 minutes past eight in the morning, soon after which thick clouds covered the whole hemisphere most of the day with some showers of rain in the afternoon.
Reference: A.J.L. Winchester (ed.), The Diary of Isaac Fletcher of Underwood, Cumberland, 1756-1781. Cumberland & Westmorland Antiquarian & Archaeological Society Extra Series XXVII, 1994.