Green Scheme Backs Life-Saving Charity
03/08/2004 16:06:55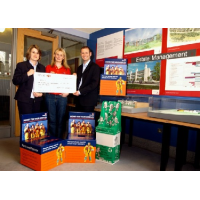 A new ink jet recycling scheme at Lancaster University has raised £102 for the Royal National Lifeboat Institution in Morecambe.
In the wake of the cockling tragedy in Morecambe Bay, environmental co-ordinators at the university have decided to donate the cash to the local branch of the RNLI to help support their crucial work.
Staff and students are able to recycle ink jet cartridges at one of 14 collection locations across campus.
Once the ink jet cartridges have been collected they are sent to the university's partner company Accutec who pay the University for each cartridge collected. All the money raised is donated to local charities.
Lancaster University environmental co-coordinator Kevin Williams said: "We are delighted that staff and students have embraced the recycling scheme enabling us to support worth while charities such as the RNLI who provide a vital service to the local community."