Studentification
04/07/2006 12:34:08
It's official - students are good for cities says new report.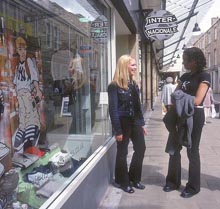 Lancaster City Centre
The economic and cultural benefits that universities bring to towns and cities have been highlighted by a new survey.
The report, 'Studentification': A Guide To Opportunities, Challenges And Practice, was written by Universities UK, the body that represents university vice-chancellors, says that the economic advantages of having a university on the doorstep is worth millions of pounds.
Just by being in Lancaster, it is estimated that the University puts at least £125m per year in to the local area. As well as being a big employer, the University also creates jobs for local people. The survey has worked out that for every 100 university jobs, a further 89 are created in the wider community. In Lancaster, with 2,000 University staff, that could be calculated as over 1,780 local jobs that depend indirectly on the University.
The study highlights the social and cultural benefits brought by a student population. By having a large and vibrant international student community, Lancaster enjoys a good range of shops, cafes, art galleries, bookshops and music venues. Students also contribute to the community in a number of different ways.
Lancaster University Volunteering Unit involves students in a range of important local projects, eg the 'Safe' project which helps elderly residents avoid doorstep crime, and 'Activate' a project helping local community groups promote the benefits of an active lifestyle.
LUVU also organises activities such as the fun-run and 'it's a knock-out' on 7th May for teams from the Lancaster community.
Professor Amanda Chetwynd, pro-vice chancellor at Lancaster University said:
" This survey is useful because it highlights the wealth that universities contribute to the local economy and the significant social and cultural benefits of having a student population in the city.
" Local businesses recognise that Lancaster University is important for their success, either through research, consultancy, student work- placements or simply that a university town has a high number of young people able to buy the goods and services that they offer. Students also enjoy living in the area and want to stay after graduation, which attracts new employers."
The report also recognises that having a dense student population can bring some problems.
Professor Chetwynd added: "Although Lancaster has not had the major problems that some other university towns have experienced and its impact is mainly positive, it is important that the University builds on the positive relationship it has with the local community."
Local people also benefit from the University's involvement in plans to address the regional shortage of doctors and dentists. Lancaster University will welcome the first cohort of 50 new medical students starting in September which should see an increase in medical provision in the Lancashire and Cumbria area.