MA Fine Art Show at Peter Scott Gallery
09/04/2008 11:19:23
Antisutures by Sarah Marie Casey
An exhibition by students from the Lancaster Institute for the Contemporary Arts is at the Peter Scott Gallery from September 5-12. The MA Fine Art Show is the culmination of work by postgraduates Sarah Marie Casey and Alex McGibbon.
Exhibitions Officer Lauren Humphries said: "A 'dénouement' is the unravelling of the complexities of a plot in literature. This exhibition reveals the outcomes of creative investigation, and is the unravelling and drawing together of varied strands of inquiry to achieve resolution."
Sarah's work explores the action of stitching, with tiny burnt images of clothing painstakingly etched onto delicate Japanese paper.
She said: "Stitching, typically an activity of healing and repair, is taken to extremes through either excessive repetition or by making heated sutures which dissolve the ground. This is coupled to an ongoing interest in tactile material contact, the elusive nature of such encounters and the fetish-like quality that attaches itself to them. Delicacy and fragility become positive values, evoking a desire to engage in an intimate manner.'"
A former teacher, she has enjoyed her MA so much that she now aims to stay on at Lancaster for an MPhil and possibly PhD.
"I've really loved the MA and it's helped interrogate what I do in terms of art, and given me confidence."
The other artist is Alex McGibbon whose work on the theme of death and rebirth mirrors her early experiences of surviving an earthquake in El Salvador.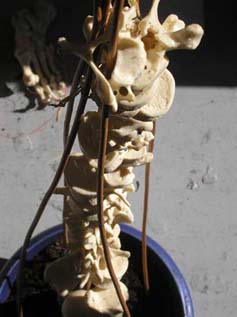 Device #1 Vertebrae by Alex McGibbon
Her work includes a human skeleton and is multi-media, including a filmed performance, sculptures and installations.
She said: "I am fascinated by bones which are a universal human symbol and also by rituals of cleansing which are common to many cultures. The film and performative aspects of the work hold their significance as emblems of death and rebirth. It is my belief that Western society has completely lost touch with nature, and through the process of making, particularly the way in which I use specific materials, I hope to be able to point out the need to reunite the human body with the 'planetary' body."
Alex said the MA had been invaluable and given her the confidence to become a professional artist.
"It helped me develop a visual language and learn where my practice is going."
Visitors to the MA Fine Art Show will also have the opportunity to view further works by the artists on display in the Art Section studio spaces.
The Peter Scott Gallery is located in the Great Hall Complex on Lancaster University campus. Gallery open 5–12 September: Mon – Sat 11am-4pm & late Thurs 11am-9pm
Free Admission Tel: 01524 593057 www.peterscottgallery.com