Lancaster Lecturer wins Bridport Prize
11/20/2007 09:39:30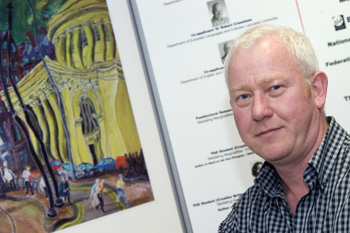 Dr Graham Mort
A Lancaster University Lecturer has won the prestigious Bridport Prize Short Story Competition 2007.
Creative writing lecturer Dr Graham Mort won the £5,000 first prize for his short story 'The Prince'.
The £5,000 first prize for poetry went to Christopher Buehlman from St Petersburg, USA.
Author Tracy Chevalier judging the short story category said: "To me the most successful stories are those where a character learns something about herself and the world, and I learn alongside. I am also a sucker for a twist - something that jolts me and makes me reconsider the world created in the story and the assumptions I've made."
Dr Mort said: "I was very pleased that I'd won - even though I know that competitions involve a strong element of chance - because this was a story that I felt a strong connection with. It's set in a Dales village and is about the last summer of a boy's life and the way a young girl, his neighbour, becomes aware that he is dying. The boy reminds her of an Indian prince because the bandage he wears is like a turban, so the story brings together mythical elements as well as chronicling the summer and its rituals."
Dr Mort lives in Carnforth, North Yorkshire, and lectures in creative writing at Lancaster University where he directs the Centre for Transcultural Writing and Research. He has worked extensively in Africa, designing and implementing literature development projects for the British Council.
He has published eight books of poetry and won a number of literary prizes, including a major Eric Gregory award and a Poetry Book Society Recommendation. His short stories have appeared in many anthologies and literary magazines. He is currently planning a collection of short fiction.
For further information go to http://web.mac.com/graham.mort/iWeb/Site/Welcome.html
The Bridport Prize International Creative Writing Competition was founded in 1973 and has steadily grown in stature and prestige. Right from the start the competition attracted entries from all parts of the UK and from overseas. Today, entries number many thousands and are received from over 80 countries worldwide.
In many cases a win in the Bridport Prize has led to further successes and helped to launch new writers. Kate Atkinson (a short story winner in 1990) said that it was very important, confirming that she had found her "voice". Her short story went on to become the first chapter of her novel, "Behind the Scenes at the Museum", winner of the 1995 Whitbread Book of the Year. She returned to judge the Short Story section in 2001.
Other noteworthy names include Helen Dunmore (also a 1990 winner) whose "Spell of Winter" won the Orange Prize for Fiction in 1996; Tobias Hill, a winner in both categories (poetry 1994, short story 1996) and Tess Biddington, a winner in 2000, who made it onto the short list for The Forward Prize and gained an agent, plus many others.
The Judges
Tracy Chevalier was born in 1962 and grew up in Washington, DC. After taking a BA in English from Oberlin College, Ohio, she moved to London in 1984 and lives there still with her husband and son. Tracy first worked in publishing, as a reference book editor for St James Press, editing several encyclopedias about writers and writing. In 1993 she left office life to do an MA in creative writing at the University of East Anglia, where her tutors were Malcolm Bradbury and Rose Tremain. There she began her first novel, The Virgin Blue, published in 1997. She has since published Falling Angels (2001), The Lady and the Unicorn (2003) and the book for which she is best known, Girl with a Pearl Earring (1999) which has been translated into 34 languages and sold over three million copies. It was made into a film starring Colin Firth and Scarlett Johansson. Her latest novel, Burning Bright, about William Blake, was published in March 2007. She is currently Chair of the Society of Authors.
Don Paterson was born in Dundee in 1963. He works as Poetry Editor at Picador, and lectures in the School of English at the University of St Andrews. He also works as a jazz musician and composer. He is the author of five books of poetry and two of aphorism, and has compiled several anthologies. His books have received a number of literary awards, including a Forward Prize, the Whitbread Poetry Prize and the Geoffrey Faber Memorial Award, and he has twice been winner of the T S Eliot Prize. His poetry collections include God's Gift to Women, Landing Light and Orpheus: a version of Rilke's Die Sonette an Orpheus. The Blind Eye, a book of aphorism, is forthcoming.