James H. Morton - Peter Scott Gallery Exhibition
04/08/2005 11:51:51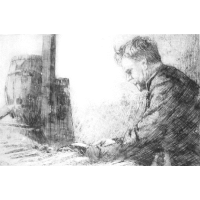 An exhibition of artworks by James H. Morton (1881 – 1918), from Lancaster University Art Collection and on loan from individuals and institutions in the North West, will be on display on the ground floor of the gallery and in the Irène Manton Room from 18 April until 3 June.
James H. Morton was born in Darwen, East Lancashire, in 1881. In 1899 he was awarded a scholarship to study at the Royal College of Art, London. After graduating from the Royal College he turned to teaching, before returning to Darwen to focus on his art practice. His work was exhibited at the Walker Art Gallery in Liverpool, the Royal Academy of Arts, and in the 1915 International Society of Sculptures, Painters and Gravers Exhibition in London. Morton's promising career as an artist was cut short when he was conscripted into the army in 1916. He was killed in action in 1918 whilst serving with the 1/5 East Lancashire Battalion, at the age of 38.
His works were kept together in Darwen by his four sisters, until the last sister Alice Morton died in 1967. On their discovery, exhibitions of his works were held in Darwen and in Blackburn, and in 1971 all of the works were sold at a public auction.
This exhibition brings together a number of paintings, pastels, etchings by Morton, along with his initial sketches and artist's materials, for the first time in nearly 35 years.
A full-colour illustrated catalogue is available to accompany this exhibition, including an essay by Alan Duckworth, a writer and community historian based at Blackburn Library.
Gallery open during exhibitions: Mon – Fri 11am-4pm & late Thurs 11am-9pm. Open Bank Holidays 2 & 30 May.
Free Admission Tel: 01524 593057 www.peterscottgallery.com