Cheerleading Boom at Lancaster University
03/02/2005 12:12:23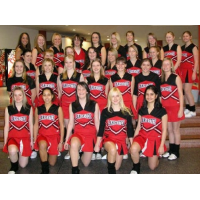 Students from Lancaster University are set to take part in a national cheerleading competition this week.
The UK Cheerleading Association National Competition 2005, due to be held in Manchester on March 5th and 6th, will see the Lancaster University squad battling it out against dozens of other teams.
The society, which was formed around three years ago, has expanded from just 12 to more than 30 members over the last year including one male student.
The Lancaster Cheerleading Squad has proven to be especially popular with visiting American and Canadian students who have taught the Lancaster squad some of their routines.
The group now regularly turns out to support Lancaster University's American football and basketball teams, at weekend matches around the country.
According to the squad captain Debbie Smith there's more to the sport than waving pompoms in the air.
She said: "I've played a lot of sports and this is just about the most demanding thing I've ever done. We train really hard – three times a week for up to four hours at a time. Its just about the most fun thing you can imagine. Especially when you are up in the air doing stunts."
"It's a great way to meet people and you get to see a lot of different parts of the country. Having a cheerleading squad at sports events really makes a difference to the atmosphere. Thirty women – and one man – can make a lot of noise."