LANCASTER TOP 10 OUT OF 150 INSTITUTIONS
10/31/2001 14:23:37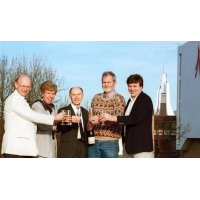 Lancaster University has been rated a top ten research institution in the 2001 national Research Assessment Exercise, by the Times and Guardian newspaper league tables.
Lancaster has been ranked joint 8th by the Times and the Guardian - making Lancaster top in the North West, and in the top ten out of 150 institutions.
Lancaster achieved 71% of staff in units which have been assessed 5 or 5*, for international research excellence. It is one of only a handful of universities which returned 90% of staff as research active.
Lancaster's 5* departments are Physics, Statistics, Sociology and the Management School. Physics have made a leap of 3 places to achieve 5* from 1996 when they got 3a. Sociology and the Management School have maintained their position and Statistics have made the jump from 5 to 5*.
Departments achieving 5 are Psychology, Environmental Science, Computing, Law, Applied Social Science, European Languages and Culture, English, Linguistics, Religious Studies and Educational Research. Law and European Languages and Culture have both made a double leap from their 1996 scores.
Pro-Vice Chancellor Professor Ray MacDonald said: 'This result shows that Lancaster has increased its internationally recognised research status, and that the University greatly benefits its local region.'
For a full listing of all subjects please see:
http://www.lancs.ac.uk/users/admissions/quality.htm
For the guardian website:
http://education.guardian.co.uk/researchratings