University helps hundreds of businesses to flourish
07/22/2008 13:25:25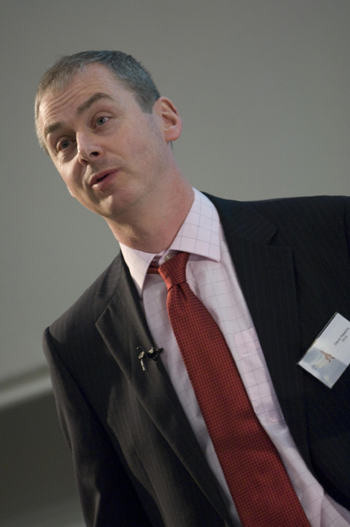 David Rawlins, the Government's Head of Innovation Policy at the Department for Innovation, at the launch
Lancaster University is helping businesses to blossom across the region creating hundreds of new jobs and boosting sales, according to a new study.
Between 398 and 597 new jobs were created in enterprises supported by the University in the two years from January 2006 to December 2007. This represents a total average growth rate of nine percent in assisted companies compared to an overall regional business growth rate of less than 0.2 per cent.
The average growth in employee numbers in organisations helped by the University ranged from between 12 and a half to 14 full time equivalent jobs.
Senior figures from across the region attended the launch of the report - Innovation, Knowledge Exchange & Higher Education - Wednesday, June 25, at Lancaster University's Leadership Centre.
In the past six years, the University has supported more than 2,000 regional businesses, social enterprises and community organisations through a range of economic regeneration programmes.
The University commissioned the report to measure the tangible benefits businesses were receiving from working with one of its eight dedicated enterprise support centres.
Researchers asked a sample of 242 enterprises which had worked with the University between January 2006 and December 2007 how it had helped their business.
The response was overwhelmingly positive with businesses reporting increases in staff numbers, impressive sales growth and a more strategic approach to their work.
The study also found:
● Micro enterprises saw an average increase in annual sales of 167 per cent
● For every £1 of grant money spent by Lancaster University per enterprise, between £2.40 and £4.30 of extra sales were generated by the business.
●One in two enterprises reported an increase in profits.
●Enterprises which had an increase in sales grew on average by £499,000 in annual sales
●35% of enterprises which did not experience a growth in sales mentioned that Lancaster's intervention assisted them in avoiding a decrease or a steeper decline on sales.
●78% of assisted enterprises reported that they had developed a more strategic approach or vision, with 85% of those attributing it to Lancaster's intervention.
Roderick O'Brien, Director of Research and Enterprise Services said:
"As one of the leading UK research universities Lancaster has a huge amount of knowledge and expertise. In recent years we have been able to offer support and partnership to thousands of businesses across the region in areas from leadership development to specialist ICT support.
"It is tremendously gratifying to get a clear picture of exactly how the University has made a real difference – transforming profits and enabling enterprises to reach their potential."
At the launch, David Rawlins, the Government's Head of Innovation Policy at the Department for Innovation, Universities and Skills, gave a keynote speech, along with Dr George Baxter, Director of Science and Innovation at Northwest Regional Development Agency.
Other speakers included Tina Egan, Deputy Director of the North West Universities Association and Dr Manuel Flores-Romero, lecturer at the Institute for Entrepreneurship and Enterprise Development.
Guests were also given introductions by Professor Mark Easterby-Smith, Associate Dean (Enterprise) at Lancaster University Management School and Professor Paul Wellings, Vice-Chancellor of Lancaster University.
The University enterprise support centres are: Lancaster University Management School – Institute for Entrepreneurship & Enterprise Development (IEED), Lancaster Environment Centre (LEC), InfoLab21, Lancaster University Product Development Unit (LPDU), Lancaster Business Creation (LBC), Lancaster University Volunteering Unit (LUVU), the Tourism Centre and the Innovation Unit.
They are largely funded through the European Regional Development Fund (ERDF), the Higher Education Institution Fund (HEIF) and the Northwest Regional Development Agency (NWDA).