University poet shortlisted for top literary award
11/10/2006 09:43:35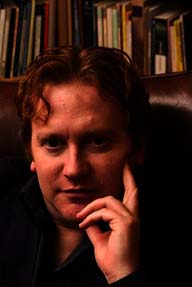 Paul Farley
Award-winning poet and academic Paul Farley from Lancaster University has been shortlisted for poetry's most prestigious prize.

The TS Eliot Prize 2006 has been described by the Poet Laureate, Andrew Motion, as "the prize most poets want to win".

The £10,000 prize is to be presented by TS Eliot's widow, Valerie, for the best new collection of poetry published this year. Paul Farley, Reader in Poetry at the Department of English and Creative Writing, is on the shortlist for his book "Tramp In Flames" (Picador).

The Poetry Book Society announced the shortlist of ten books which includes works by the Nobel prize-winner Seamus Heaney and the Pulitzer prize-winner Paul Muldoon.

Paul Farley said: "It's an absolute honour to be in the company of Seamus Heaney and Paul Muldoon. The TS Eliot Prize is Britain's most prestigious literary award and I'm pleased about being on the shortlist."

He studied at Chelsea School of Art before turning to poetry and he has since published three collections of poetry to widespread acclaim. His first collection, "The Boy From The Chemist Is Here To See You" received many awards including the Forward Prize and the Somerset Maugham Award and in 1999 he was named the Sunday Times Young Writer of the Year. His second collection, "The Ice Age", won the Whitbread Prize for Poetry in 2002.

He said: "Writing poetry is vocational, rather than aspirational: it's like an itch that you have to scratch and you know it's going to come back again.I don't think I'm ever satisfied with what I've written. If I ever wrote something perfect, I'd give up.

"I don't sit down to write a poem, it's something that happens when I get a line or a phrase in my head that nags at me and I have to write it down. It happens when I'm doing something else and it's not always the right time to stop and write a poem."

One of the judges of the TS Eliot Prize, Sean O'Brien, said he was impressed by the quality of the poetry in the competition.
"The diversity of the shortlisted work resists simple categorisation, offering rich pleasures and exciting challenges for poetry lovers and newcomers alike."
The judges will make their final decision in January.
http://www.paulfarley.com/poetry.html http://www.panmacmillan.com/Titles/displayPage.asp?PageTitle=Individual%20Title&BookID=376456
http://www.poetrybooks.co.uk/PBS/pbs_ts_eliot.asp