Plane Performance - Round-about
03/29/2004 14:05:08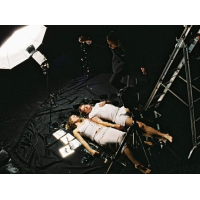 An exciting new theatre piece by Plane Performance will be coming to The Nuffield Theatre, Lancaster University on Wednesday 28th April.
Like desperate understudies surrounded by the fragments of a huge shattered glitter-ball, five performers reconstruct the musical Carousel, barefoot, on a floor of over two hundred mirrors. Re-tracing the dance steps, singing at inappropriate moments, and taking the acting far too seriously, they play the kind of dangerous games anyone might if they were waiting for a call that was never going to come.
This is 'Carousel'. This is the classic musical. There is some singing, and some dancing, and it does end with You'll Never Walk Alone. And yet of course this is not 'Carousel', not what you'd expect, not the predictable and safe experience that that word conjures up. Pared down to the bone and stripped to its essentials, round-about re-discovers Carousel as an incisive and dynamic statement on contemporary life and the possibilities of theatre. Gone is the frivolous optimism, the excessive sentiment, and trappings of Americana - this kind of escapism is a serious business, and let no one forget it.
For almost 10 years plane performance have made theatre that is challenging, intelligent, often funny and uniquely accessible.
This is the third part of Plane Performance's unique' re-placing texts' trilogy which began with Three Degrees of Frost based on The Cherry orchard and SET based on the film Brief Encounter. round-about is presented in collaboration with radical sound artist Spencer Marsden.