Outstanding work recognised by 2008 staff prizes
06/18/2008 11:59:37
The outstanding work carried out by staff has been recognised with the award of the 2008 staff prizes.
This year the staff awards were extended to include a college prize and a prize for interdisciplinary research. The prizes were presented by the Chancellor Sir Christian Bonington CBE, DL at a ceremony for staff and their families and guests in the Leadership Centre on 16th June.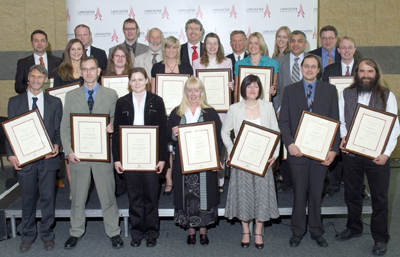 Staff Prizes 2008
The Community prize was jointly awarded to Ruth Love from Sociology to recognise her work as a fund-raiser for the charity Macmillan Cancer Support, and to Kate Haywood, Department of Continuing Education, in recognition of her contribution to the wider community by her support for her colleagues, her work with the local Beavers, and her role in raising money to support children in Africa.
The College Prize was awarded to Dr Chris Grocott , History, in recognition of his active and positive contribution to college life at Lancaster. He has served The County College and Furness College in a number of key roles, helping to ensure that those colleges operate as genuine communities of junior and senior members.
Professor Bahram Honary, Communications Systems, won a Commericalisation prize for his success in applying research results to industrial problems, and combining academic excellence and entrepreneurial zeal in an exemplary manner in his area of electronic communications.
Professor Alan Dix and Dr Joe Finney from Computing also won a Commercialisation prize for moving their work on human-computer interaction, - especially the Firefly project which uses computers to display 3D images using thousands of networked light sources - out of the lab and into high visibility public installations.
Joint winners of the Media & Communication Prize were Sue Peters, Institute for Entrepreneurship and Enterprise Development and a team from the Lancaster Environment Centre , Dr Rob MacKenzie, Christine Valentine, Debra Hurst, Deborah Lee and Dr Brian Davison.
Sue's prize was in recognition of her work to raise the profile of third mission work and the LEAD programme and her success in achieving national and regional publicity to recruit small businesses onto LEAD, ensuring the project's sustainability beyond the original funding.
The LEC team's prize was in recognition of the wide range of communication activities focussing on weather and climate , particularly the media work around the 19th century diaries of John Andrew which give insight into regional weather patterns prior to the start of the official Met Office records.
Four Teaching Prizes were awarded to: Dr Wendy Beekes from Accounting and Finance, for her many contributions to the learning experiences of students including the introduction of innovative approaches to teaching such as the radio frequency Personal Response System which provides instant responses from students; Georgia Georgiou, Centre for the Enhancement of Learning and Teaching, in recognition of her imaginative use of e-learning and related technology to focus on enhancing learning processes and outcomes; Dr Aristotle Kallis, European Languages & Cultures, for his use of media and technology in teaching and Dr Edward Venn, LICA, in recognition of his successful teaching in challenging areas and his ability to engage students.
In the Research Prize category, Dr Jos Barlow from Biological Sciences and Dr Nina Caspersen, Politics and International Relations, both won an Early Career Award.
Dr Barlow's award recognised his research on tropical forest biodiversity and Dr Caspersen's recognises the considerable international recognition of her work achieved at an early stage in her academic career.
Professor David Collinson from Management Learning and Leadership won the Established Researcher Award for excellent research in the field of leadership.
The Prize for Interdisciplinary Research went to Dr Paul Rayson from Computing
for research in corpus-based computational linguistics which led him to establish fruitful collaborations with colleagues in Computing, Religious Studies, History, Psychology and Educational Research.
The Excellence in Doctoral Supervision Prize was won by Professor Jonathan Tawn
from Mathematics & Statistics. This award recognises Professor Tawn's sustained record of effective supervision.